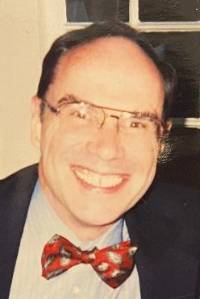 To view Livestream of the Funeral Mass for Fred McGoldrick December 6, 2021 at 10:00am.

Fred McGoldrick of Canton, Massachusetts passed away peacefully at his home on November 29, 2021. He was 79 years old. Fred was the beloved husband of Diane (Finn) McGoldrick, father and friend to Tim (Bethany) McGoldrick and "Grampa Fred" to Finn. He was predeceased by his siblings: Mary (Charlie) Malloy, Connie (Edward) Englert and George (Elaine) McGoldrick. He was brother in law to the late Anne McGoldrick, Patrick Finn, Deac Finn and James Finn. He is survived by many loving nieces, nephews and friends.

Fred was born in 1942 in Boston to the late Cecil and Mary (Ford) McGoldrick. Fred grew up in West Roxbury and was a graduate of BC High and Boston College. He went on to get his Masters Degree at Columbia University and a PhD at American University, though all his love stayed with Boston College football.

Fred went on to hold senior positions at the Energy and State departments and the U.S. Mission to the International Atomic Energy Agency. He negotiated peaceful nuclear cooperation agreements with EURATOM, Switzerland, Japan, China and South Africa, and helped shape U.S. policy to prevent the spread of nuclear weapons. He was a good guy to have on our side.

Fred retired from the State Department to become the president of Bengelsdorf, McGoldrick, and Associates, an international consulting firm that specialized in nuclear non proliferation and peaceful nuclear cooperation.

Fred will be deeply missed by his family, he was simply the best.

Visiting hours will be held on Sunday, December 5th from 1-4 PM at the William J. Gormley Funeral Home 2055 Centre Street West Roxbury, MA 02132.

Funeral from the Gormley Funeral Home on Monday, December 6th at 9 AM followed by a Mass of Christian Burial at Holy Name Church 1689 Centre Street West Roxbury, MA at 10 o'clock. To live stream the Funeral Mass go to www.harborview.live.

In lieu of flowers, please consider sending a donation to Doctors Without Borders, the UN High Commissioner for Refugees, or the US Fund for UNICEF, or all three.