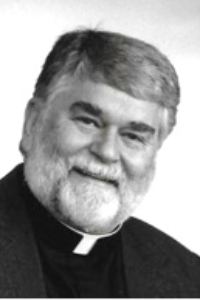 To view the Funeral Mass for Fr. Claudius S. Nowinski

Reverend Claudius S. Nowinski, M.S., Jr. 83, a Missionary of Our Lady of La Salette, died October 14, 2021 at home in Roslindale, MA, at the home of his friend and colleague, Dr. Richard Bunbury, where he had taken care of his mother until her death in 2007. He was born May 27, 1938, the son of Claudius and Marie (Bendick) Nowinski. He attended St. John the Evangelist Grammar School in Schenectady, NY; High School at Christian Brothers Academy; Junior College at the La Salette Seminary in Altamont, NY; and Philosophy and Theology at the La Salette Seminary in Ipswich, MA. Father Nowinski made his first profession on July 2, 1959 and was ordained to the priesthood on May 29, 1965. In high school, he was a pupil of the late Dr. Edward Tidmarsh at St. John the Evangelist Church. He continued his education at the Connecticut School of Broadcasting in Bloomfield, CT and studied organ and choral training at the Royal School of Church Music at Princeton University in New Jersey for four consecutive summers. Besides liturgy and music, he was interested attending classical concerts, researching family genealogy, and in computers and computer music notation. He had been a mentor to several future priests and church musicians.

Father's first assignment was Sub-Master of Novices in Bloomfield, CT. In 1968, he ministered in retreat work at the La Salette Shrine in Ipswich, MA, followed by assignment to Our Lady of La Salette Church in Rainham, England. In 1969, he returned to the United States as Prefect and Teacher at the La Salette Seminary in Cheshire, CT. Fr. Nowinski joined the National Shrine Apostolate in Ipswich, MA in 1972. From 1974 until 1988, he ministered at Our Lady of Good Voyage Parish in Gloucester, MA as organist, choir director and carilloneur. He became the Liturgical Music Director at St. Mary Church in Dedham, MA, St. Mary of the Assumption in Brookline, MA, St. Mary's in Waltham, MA, and then the Director of Music and Liturgical Ministries at St. Andrew the Apostle Church in Forest Hills, MA in 1998 in addition to assisting with pastoral needs of the parish. Concurrently, he served St. Theresa of Avila Parish in West Roxbury, MA in several capacities including ministry to nursing homes, various priestly duties and assistant organist and choir director in a thriving music program. He was active in the American Guild of Organists and was Chaplain to the Jamaica Plain K of C. In addition to his parish ministry, Father Nowinski also held a chaplaincies at the VA Hospital in West Roxbury, MA, and Brigham and Woman's Hospital in Boston.
Father Nowinski was predeceased by his sister, Maureen and niece Laurie Ann McNeil. He is survived by cousins Donna and Gary Wittemeyer and Rebecca Wagoner; Nephews Laurent A. Pellerin, John Pellerin and several grandnieces and grandnephews.

A Mass of Christian Burial will be concelebrated on Wednesday, October 20 at 10:00 am at St. Theresa of Avila Parish, West Roxbury. To live stream the Funeral Mass, go to www.sttheresaparishboston.com . Visiting hours will be held in the church on Tuesday, October 19 from 5:00 to 7:00 pm. Burial will be at Most Holy Redeemer Cemetery in Schenectady, NY on Thursday at 1:00 pm. Contributions in his memory may be made to: Missionaries of Our Lady of La Salette Retirement Fund, 915 Maple Avenue, Hartford, CT 06114-2330.