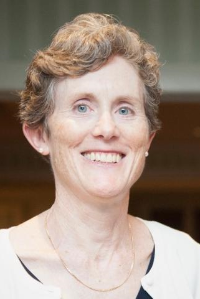 Laura V. Dowd
Roslindale, Massachusetts

Our very beloved Laura passed away on April 2, 2021 surrounded by her husband David and daughters Julia, Meredith, Lynn and Rose following a stroke and year long struggle with lung cancer. We are devastated, but held in our love for her by the beautiful life and community she created for us.

Laura was born in Rochester New York in 1956, daughter of the late Frank Dowd and Janis Tremper Dowd. The family lived in Oxford, Pennsylvania during her elementary school years and returned to Rochester when Laura was in junior high. In 1973 she graduated from the School Without Walls in Rochester. She attended college in Rhode Island at Brown University and she later received a Masters degree from Tufts University.

After graduating from college, Laura lived in Rhode Island, where she met her husband David Gallogly. They moved to Boston in 1982 and were married in 1985. Their daughters Julia, Meredith and Lynn Gallogly were born in 1989 and Rose Gallogly was born in 1994.

Laura was a gifted musician who played and performed frequently with groups of friends and for many years was the piano accompanist for the choir at our family's church. She was devoted to her family and dearly loved being a Mom. Throughout her daughters' school years she was an active volunteer, particularly in school arts and music programs. She was also deeply invested in local politics and was active throughout her life on political campaigns, always having the patience to make endless calls in phone banks and collect signatures on nomination papers. Laura also loved being at her home in Roslindale, working in her garden, and cooking nourishing meals for family and friends.

In addition to her husband and children she is survived by her aunts Barbara Dowd Wright and Carol Dowd Brady, many dear friends, nieces and nephews and cousins, and her sisters and brothers in law: Kathleen Gallogly and Jerry Rheaume, Westfield, MA; Stephen Gallogly and Renee Desclaux, Potomac, MD; Richard Gallogly and Bonnie Katz, Newton, MA, Elizabeth Gallogly Burt and Steve Burt, New Canaan, CT, and Tim and Kristine Gallogly, East Greenwich, RI.

Laura was predeceased by her parents Frank and Janis Dowd, siblings Judith and Allan and her step-father Daan Zwick.

A Memorial Service and Celebration of Laura's life will be held at a later date at the Theodore Parker Unitarian Universalist Church in West Roxbury, MA. Burial will be in the Dowd family plot in the New London Presbyterian Church Cemetery, Chester County, Pennsylvania.