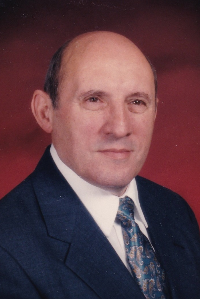 To view Livestream of the Funeral Mass for Michael Giunta January 16, 2021 at 11:00am.

On January 10, 2021, Michael J. (Mike) Giunta, died at the age of 82 from complications of Parkinson's disease. Born in Boston on October 24,1938, he grew up in Roxbury where he was a caretaker at St. Phillips Church. After attending Cardinal O'Connell Seminary for two years, he served in the United States Air Force from 1960 to 1964. Mike received his B.A. from Boston State Teachers College in 1967 and went on to receive his M.Ed. in 1970 from Boston College. He taught at Boston Central Adult High School and Boston State College in the evening programs and became president of both the Washington Irving and the Boston Home and School Associations. He and Katherine Mills wed on August 5, 1972 and raised three daughters together. As a language teacher, Assistant Principal and Director of Instruction, he spent the majority of his career at the Washington Irving Middle School in Roslindale, Massachusetts. Mike was a founding member of the Community Lakes Association of Greenwood and Woodstock, Maine. He volunteered at Audubon's Moose Hill Wildlife Sanctuary in Sharon, MA leading their Maple Sugar tours and at the West Roxbury District Court on the Reinventing Justice Committee and the Straight Ahead Program. As a 50-year member of the Knights of Columbus Rose Croix Council, he achieved Sir Knight (4th Degree), PGK, DD. He remained a devout Catholic, proud of his military service and his Italian heritage throughout his life.

In the summer, Mike could be found at his cherished lake cottage in Maine usually standing up in a canoe, hiking with the Blaine Mills hiking group, reading in his homemade macrame hammock, blueberry picking along the shores of Round Pond, or playing practical jokes on his father-in-law Francis (Frank) Mills. Frank taught Mike how to hunt and together they spent many autumns in the Maine woods tracking deer and bear. He joyfully immersed himself in Italian-American culture by attending feasts in the North End, his favorite being the Fisherman's Feast. Teaching himself how to cook in his late 40's, Mike began making gourmet favorites such as crab-stuffed sole and decadent cheesecakes for his family. He learned to ski at the same time as his kids and continued to enjoy it for many years despite never leaving the bunny slope. Mike savored heat and humidity and, after retiring, spent winter months basking in the Florida sunshine. He adored his 5 grandchildren, having infinite patience for holding and singing to them as babies, surreptitiously passing them candy as they got older, and continuing his hobby of practical jokes. Known for his sense of humor, his love of music, dancing, and bowling, Mike was a self-taught home-repair handyman and craftsman fixing everything from broken toys to plumbing as well as building doll houses and refurbishing bikes for his grandkids.

Preceded in death by his parents Anthony and Rosaria (Sarah) Giunta, and step-mother Josephine Giunta, Mike is survived by his devoted wife of 47 years, Katherine, his three daughters and their husbands, Tracy Giunta O'Donnell (Roger) of Medfield, MA, Kimberly Giunta (Edward) of Lyme, CT, and Sarah Giunta (Angelo) of Medfield, MA; his beloved grandchildren Michaela, Emily, Mary, Paige, and Michael; as well as his sisters Antoinette Giunta and Stephanie Morris, her husband Ellis, Mike's adored nephew Michael Morris and Mike's cherished niece Ann Morris Blatt and her sons Benjamin, Jacob and Austin, Mike's cousin Marie Chalmers and many more in-laws, nieces, nephews, cousins and godchildren.

Mike's family wishes to thank those who extended emotional support to Mike and his family during his final days; the family's appreciation for your presence and support cannot be expressed in words. Mike/Dad/Papa/Grampa will be dearly missed.

A funeral mass will be held on January 16, 2021 at 11:00am at Holy Name Church, 1689 Centre Street, West Roxbury. Military Honor Ceremony immediately following the funeral mass at Holy Name Church. Relatives and friends are invited to attend based on personal comfort level during this pandemic. Due to COVID-19 restrictions, masks need to be worn at all times and social distance maintained. To live stream the mass, go to https://vimeo.com/event/604492.

Charitable donations in lieu of flowers can be made in Mike's name to the Community Lakes Association, PO Box 91, Greenwood, ME 04255-0091

To leave a condolence message for the family visit gormleyfuneral.com

There will be a Celebration of Life at a later date when we can all be together safely.