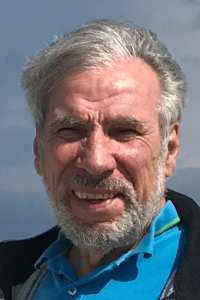 To view live stream of funeral beginning at 12 PM, Tuesday, December. 22, 2020 - Click Here

RUSSO, Joseph L. "Joe" of Costa Mesa, CA, and Hilton Head Island, SC, passed away peacefully on December 19, 2020, at Brigham and Women's Hospital, Boston, MA, following an illness. Joe is survived by his loving daughter Cecelia Walsh-Russo, his son-in-law Toke Knudsen and cherished granddaugther, Ida Knudsen. He was the dear brother of Janet Briggs of Hilton Head Island, SC, and Laura Sarver of Poulsbo, WA. He was the cherished uncle of Jacquelyn, Jennifer, Stephen and David, and great uncle of Emily, Thomas and Brianna. He was the beloved nephew of his aunt Catherine Santospirito of West Roxbury, MA.

Joe was originally an urban planner and later enjoyed a second career as a high school educator. He maintained wide-ranging interests in travel, politics, architecture, music, photography, bicycling and education. Funeral Services will be private. In lieu of flowers, donations may be made to Dana-Farber Cancer Institute, Boston, MA. Direct your gifts to Gastrointestinal Cancers, Pancreatic Cancer (https://danafarber.jimmyfund.org/site/Donation2?df_id=2100).