Obituary
Margaret M. (Bulman) Gorman, 102, a lifelong resident of Brockton, died peacefully at Copley at Stoughton on November 28, 2022. She was the wife of the late John J. Gorman, her husband of 50 years.

Born in Brockton on October 5, 1920, Margaret was the daughter of the late Richard and Abina (Lyons) Bulman. Upon graduation from Brockton High School in 1938, she continued her education at Williams Business School.

Margaret worked as a telephone operator at the New England Telephone Company before raising a family of four boys starting in 1948. In 1968, when Cardinal Cushing Hospital opened, Margaret worked as the weekend morning switchboard operator for 26 wonderful years.

She was a member of the Twentieth Century Club and Brockton Library Foundation. She enjoyed reading, doing crossword puzzles and playing word games with her lifelong friend Lorraine Sullivan. She also enjoyed visits and travel with her dear friend Casey Boyle Eldridge. The family is forever grateful to her niece Brenda (Bulman) Desmond for all that she did for her the last few years.

Margaret loved spending time with her family and friends and was active with her parish church. Even into her 90s she was a daily communicant at Our Lady of Lourdes. She had fond memories of the church coffee group until declining health forced her to move to Heights Crossing in 2019 and then to Copley.

Margaret was the mother of four sons: the late John J. Gorman Jr and his wife Connie of Scottsdale, AZ; Thomas Gorman and his wife Janet of Dedham, MA; the late Paul Gorman and his wife Cathy of Brockton and Edward Gorman and his wife Dr. Linda Gorman, of Stanley, NC. Margaret was sister of the late Richard and George Bulman and Alice Ruttle.

Margaret was the grandmother of six grandchildren: Donna, Chris, Ryan, Derek, Greg and the late Erin; the great-grandmother of Shane, Connor, Timothy, Abigail and Casen and the aunt of many loving nieces and nephews.

Visitation will be held in the Conley Funeral Home, 138 Belmont Street (Rte 123) Brockton on Friday, December 2, from 9-10am, with a Funeral Mass at Our Lady of Lourdes Church at 10:30am. Burial will follow in Calvary Cemetery. Donations in Margaret's name may be made to the American Heart Association, PO Box 840692, Dallas, TX 75284.

Live Streaming of Margaret's visitation will begin on Friday, December 2, 2022 from 9:00 am to 9:45 am at the Funeral Home and will resume at 10:30 am at Our Lady of Lourdes Church for her Mass of Christian Burial. The video feed will be below the obituary.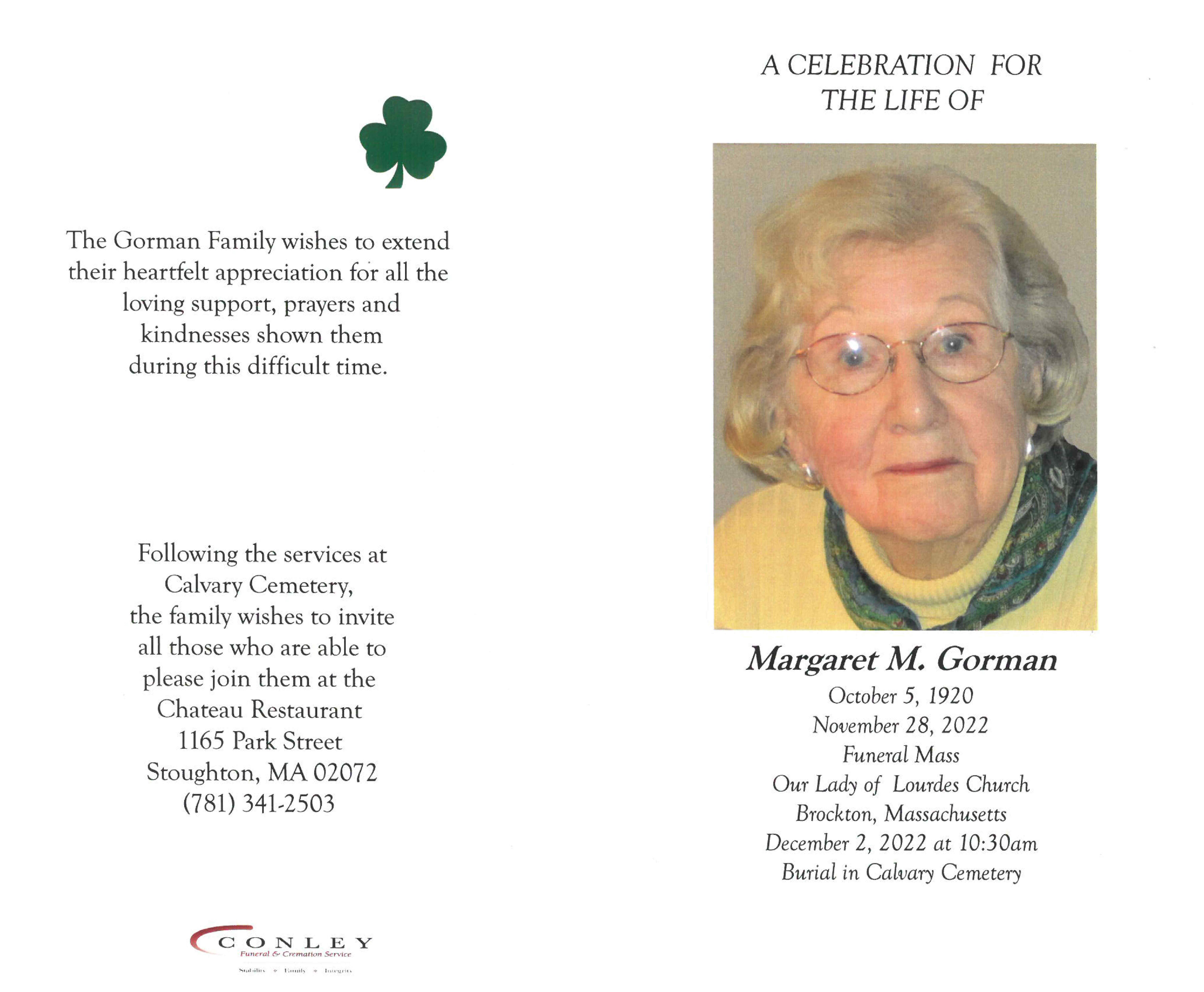 Margaret Gorman's Memorial Folder
Content is coming soon...