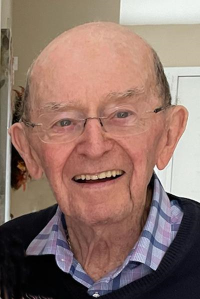 Thomas L. Livingstone, 85, passed away peacefully in his home on Friday, March 3, 2023. He was a beloved father, grandfather, and great-grandfather. Tom spent six years in the Air Force Reserve then became a successful restaurant owner. He was a devout Catholic and was part of Father Paco's healing ministry and the Betania II community. Tom loved Jesus and the Blessed Mother, his family and friends, the Church, and his community. His faith and family were essential parts of his life.

Tom loved vacationing with family, including trips to Mittersill and Aruba as well as summers at the Cape. He loved nature and loved to sail. He was kind, gentle, trustworthy, prayerful, and compassionate, had a great sense of humor, and was always very complementary. Everyone that met him loved him.

Tom is survived by his loving bride Lyda, who he was married to for 65 years; his daughter Marlene Blaney and husband Michael, son Thomas Livingstone and wife Ann, daughter Julie Livingstone, daughter Andrea Furtado and husband Steven, and daughter Melinda O'Connor and husband Keith; grandchildren Philip and wife Ariana, Kristin, Thomas Jr, Katelyn, Stephanie and husband Victor, Declan, Cameron, and Grace; 6 great grandchildren; and many nieces and nephews as well as predeceased grandson Patrick Blaney.

A wake will be celebrated for Tom on Monday, March 6, 2023, from 4-8 pm and a funeral Mass on Tuesday, March 7, 2023, at 11:30 am, both at St. Anne Church in Southboro, MA.

In lieu of flowers, the family requests that donations be made to St. Anne Church in Southboro, MA, in loving memory of Thomas L. Livingstone.