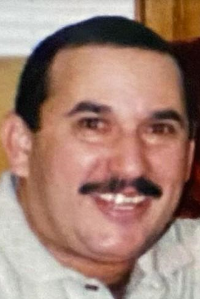 Sonys Tomas Peña of Lynn, Massachusetts formerly of Bani, Dominica Republic, passed away suddenly on February 24, 2023. He is the beloved husband of Maria Peña, the loving father of Erica Peña, and the loving Stepfather of Rafael Ruiz, Katherine Ruiz, Kathleen Rivera, and Christine Rivera Coleman.

Born in the Dominican Republic, Sony moved to Boston in his early twenties where he met his future wife Maria. They fell in love instantly and were an inseparable pair for almost 40 years of marriage. Devoted to his family, he worked hard and never sought praise. Sony worked quietly and was dedicated to those he loved the most. His dreams were seldom spoken and his wants were very few. Sony enjoyed cooking and spending time with family laughing and joking and playing with his adored cat Luna. A compassionate man of pure heart he was always there to help relatives and friends. His laughter and smile would light up a room. He was a firm foundation, sturdy through the storms and stresses of life. He was one of our greatest blessings and will be deeply missed.

Sony is survived by his loving wife Maria Peña, his mother Griselia Guillemina Victorino Peña and, sisters Leida Pimental, and Novelis Peña; his brothers, Sandry Peña and Pericle Peña. He is predeceased by his father Tomas Pena. He was the cherished grandfather of Maddox and Maven Negron, Christian and Robert Ruiz, Shaiyda and Mia Rivera, and Grant and Jovita McIver. His tireless love and devotion to his family were evident in his final moments.

Relatives and friends are kindly invited to visit with the family at the William J. Gormley Funeral Home, 2055 Centre Street, WEST ROXBURY on Monday, March 6, 2023, from 10:00 a.m. to 10:45 a.m. followed by a service in the funeral home. Services will conclude with burial in Forest Hills Cemetery. For directions or to leave a condolence message for family, please visit: gormleyfuneral.com.

As we look back over time
We find ourselves wondering. . .
Did we remember to thank you enough
For all you have done for us?
For all the times you were by our sides
To help and support us,
To celebrate our successes,
To understand our problems,
And accept our defeats?
Or for teaching us by your example,
The value of hard work, good judgment,
Courage and integrity?
We wonder if we ever thanked you
For the sacrifices you made
To let us have the very best?
And for the simple things
Like laughter, smiles, and times we shared?
If we have forgotten to show our
Gratitude enough for all the things you did,
We're thanking you now.
And we are hoping you knew all along,
How much you meant to us and how much we loved you.