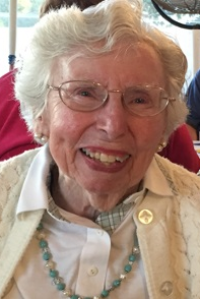 SCANLON, Dorothy T., age 96 of Dennis passed away on Saturday, January 7, 2023. Dorothy was born in Bridgeport, CT and graduated from Little Flower Catholic High School for Girls in Philadelphia. She went on to graduate from the University of Pennsylvania with an A.B. and M.A., received an M.A. from Boston College, and earned her Ph.D. from Boston University. After teaching at Latin Marycliff Academy in Winchester, MA, and the Girls Latin School in Boston, Dorothy went on to a distinguished career in higher education at Boston State College and Mass College of Art, where she was a Professor of Latin American Art.

A pioneering female academic, Dr. Scanlon held two postdoctoral fellowships at Harvard, from 1962-64 and again in 1972. Dorothy traveled throughout South America to support her research and publishing extensively during her career, penning a key instructional manual for a widely adopted Latin American historical reader.

Dorothy was learning and teaching throughout her retirement in Dennis, MA, lecturing at the Cape Cod Museum of Art, volunteering at the Dennis Library, and teaching the sight impaired how to use a computer (into her late 80s!)

Dr. Scanlon was pre-deceased by her parents, Mazie (Reardon) and George F., brothers George, Paul, and John, and nephew James. Dorothy was the loving aunt to Christine Scanlon Wood of Hingham, John Scanlon of Venice, FL, Thomas Scanlon of Malden, Tom Scanlon of Streetsboro, OH; Kara Scanlon McKinn of Urbana, IL, Sean Scanlon of Waterfall, PA; and Tim Scanlon of Arlington, VA.

Visitation in the William J. Gormley Funeral Home, 2055 Centre St. West Roxbury on Thursday, January 19th from 10-11am concluding with a service at 11am. Interment Holyhood Cemetery. Relatives and friends invited.