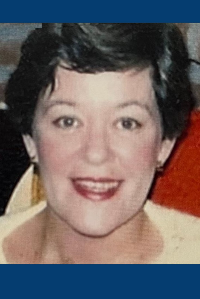 To live stream the Funeral Mass, go to https://www.harborview.live.

Diane (Finn) McGoldrick of Milton, Massachusetts passed away peacefully on January 1, 2023. She was 79 years old. Diane was the beloved wife of the late Fred McGoldrick, mother to Tim (Bethany) McGoldrick and perfected the art of being the world's best grandmother to Finn. The oldest of seven children, she was devoted to her siblings: Deac Finn, Raymond Finn, James Finn, Patrick Finn, Richard Finn and Kit Finn. She is also survived by many loving nieces, nephews and friends who will remember her kindness, her graciousness, and her wonderful laugh.

Diane was born in Milton to the late Gerald and Mary (Freeman) Finn. She was a graduate of Arch Bishop Williams High School and Emmanuel College. She moved to Washington DC and worked for Bell Atlantic for nearly 20 years where she implemented many equal hiring practices. She helped move the family to Vienna, Austria for several years, and finally settled back in Massachusetts for their retirement. She loved to talk about her travels, and made friends wherever she went.

Diane will be deeply missed by her family, but her selfless devoted love for others will live on forever.

Visiting hours will be held on Monday, January 9th from 4-7 PM at the William J. Gormley Funeral Home 2055 Centre Street West Roxbury, MA 02132. A Mass of Christian Burial will be held on Tuesday, January 10th at St. Oscar Romero Parish Church, 700 Washington St., Canton, MA at 10 o'clock. To live stream the Funeral Mass go to www.harborview.live.

In lieu of flowers, please consider sending a donation to Doctors Without Borders, the UN High Commissioner for Refugees, or the US Fund for UNICEF, or all three.