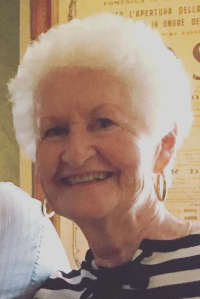 Irene Agnes (Dunn) Kilroy, 87 of West Roxbury, December 24, 2022. Beloved wife of the late, James J. Kilroy. Devoted mother of Katie Kilroy of West Roxbury and Dennis, Peg Myers and husband Jim of Yarmouthport and Sheila Farragher and husband Patrick of Mansfield. Loving Nana to Erin and Jay Myers, Sean and Matthew Farragher. She is also survived by her sister, Catherine Crowley, brother, William Dunn and many nieces and nephews. Irene grew up in Forest Hills and was the youngest of 10 children. She was pre-deceased by Betty Monaghan, John Dunn, Roger Dunn, Sister Margaret Dunn, CSJ, Helen Jones, James Dunn and Anne Stevens Caruso.

Irene was a graduate of Laboure School of Nursing in 1958 and earned her Bachelor's of Science degree from Massachusetts College of Pharmacy and Allied Health Sciences in 1988. She began her nursing career at Boston Floating Hospital and worked at St Margaret's Hospital for Women in Dorchester and Brighton for over 35 years. She was described as a nurses' nurse, from a place where uniforms were starched, and shoes were polished. Always prepared. When she was in charge, everything would be ok because Irene was steering the ship. She was a real giver and a gem. Nursing was not just an occupation; it encompassed every fiber of her being. She later found her true calling as a Hospice nurse where she combined her nursing skills with her deep faith. She managed to provide support and comfort to families while she cared for their loved ones.

Holy Name Parish was Irene's second home. She was a Eucharistic Minister, a long-time member of the Pre-Cana marriage preparation team, the folk group and the St. Vincent De Paul Society. When Irene was standing at the doors of the church with the donation basket in hand, parishioners dug a little deeper into their pockets. She truly believed that it was better to give than receive.

Irene was a talented musician. She was a self-taught pianist and guitarist who loved to sing. Known to bring her musical talents everywhere she went, Irene would play the piano or guitar at family gatherings, while visiting the sick, while working at the St. Elizabeth's Adult Day Health Center or at the annual neighborhood block party. She and Jim enjoyed the camaraderie of friends while attending BC football games for the better part of 25 years. In addition to elaborate tailgating at home games, they travelled to many games, with her guitar in tow, to West Point, NY, Dallas, TX and Dublin, Ireland.

Irene's memory would be best served by following in her footsteps. When someone was in need, she did not wait to be asked to help, she offered it first. It could be as simple as a hug, a ride to an appointment or a hot meal for a grieving family. Irene always knew what people needed, even when they didn't and always found time in her busy day to see it through. Those who knew her are better because of it. An angel on earth who will be greatly missed.

Visiting hours, Friday December 30, 4:00-8:00pm Gormley Funeral Home, 2055 Centre Street, West Roxbury
Mass of Christian burial Saturday, December 31, 11:00am, Holy Name Church, 1689 Centre Street, West Roxbury Massachusetts, 02132
Burial, Tuesday, January 3, 2023, 12:30pm at the Massachusetts National Cemetery, Bourne Massachusetts.
In lieu of flowers, please consider a donation to Holy Name Church.