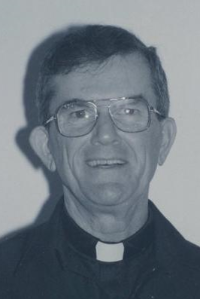 Sullivan, Rev. Francis E., a Redemptorist from Mission Church, died peacefully on November 17, 2022 at the St. John Neumann Residence of the Redemptorist Community in Timonium, Maryland, at age 88. Fr. Frank is survived by his brother-in-law, Richard T. Griffin, of Reading; his 17 devoted nieces and nephews; his 42 grandnieces and grandnephews; his Redemptorist confreres; and many friends from his life and ministry.

Fr. Sullivan is predeceased by his parents, Joseph F., and Helen M. Sullivan, and his six siblings: Catherine M. Sullivan, Helen T. Collins, Joseph F. Sullivan, Jr., Brother James L. Sullivan, CFX, Edward H. Sullivan, and Dorothy A. Griffin.

Family and friends are invited to pay their respects at the William J Gormley Funeral Home 2055 Centre St. WEST ROXBURY on Monday, November 21 from 4-7 PM. The Mass of Christian Burial will be on Tuesday, November 22 at 10:00 AM at the Basilica of Our Lady of Perpetual Help (Mission Church) at 1545 Tremont St. A viewing will take place in the Church from 9:00-9:45 AM before the start of the Funeral Mass. Interment will follow the Liturgy at Old Calvary Cemetery in Roslindale. In lieu of flowers donations may be made in Fr. Frank's memory to Mission Church, 1545 Tremont St., Boston MA 02120.