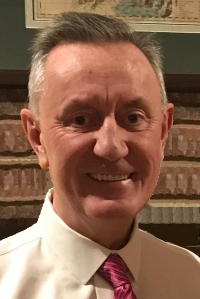 COLEMAN, Paul (Patrick) a long-time resident of Needham and Harwich Port formerly of Carrigtohill, County Cork, Ireland passed away unexpectedly on November 6, 2022 at his home. Paul was the beloved and adoring husband of the late Bernadette Brett-Coleman. Paul was born in County Cork on December 8, 1958 the loving son of the late Margaret (Kelleher) and Jerry Coleman and the brother of the late Jack.

Paul was much loved and will be sadly missed by brothers David and Gerry, sisters in law Rosaire, Darina, Mary. Deeply regretted by the Brett families: Margaret Mary and Mike, Seamus and Margaret, Helena and Hugh, Marianne and Brendan, Rosaleen and Adrian, Kevin and Sharon and will be lovingly remembered by his many nieces, nephews, relatives, friends, and neighbours.

Relatives and friends are kindly invited to visit with the Paul's family in the William J. Gormley Funeral Home, 2055 Centre Street, WEST ROXBURY on Sunday, November 13, 2022 from 4 :00 p.m. to 6:00 p.m. Services in Boston will conclude with a prayer service in the funeral home at 6:00 p.m.


A Mass of Christian Burial will be Celebrated in The Church of the Immaculate Conception, with burial in Bunnacrannagh Cemetery, Curry, Co. Sligo Ireland. Details will be announced at a later date.

May Paul Rest in Peace.