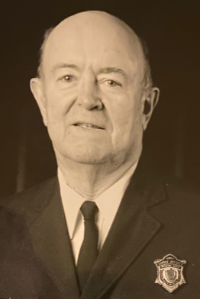 LAVELLE, Philip Michael, of Jamaica Plain, formerly of Holyoke, passed away peacefully on Saturday September 10. Phil was born in Holyoke on February 20, 1934 to Philip and Beatrice Lavelle of Co. Mayo, Ireland.

Phil is survived by his loving children, Matthew and Meredith of Norwood, Patrick and Denise of Malden and Maura and Chris Byron of Milton and is the cherished "Grampa" of Cole, Gavin, Delaney and Delilah Lavelle and Brendan Byron. Phil is predeceased by his beloved wife Mary Katherine Long with whom he shared 37 years of marriage, his siblings John Lavelle, Charles Lavelle, Michael Lavelle, Theresa Pollard, and Sr. Mary Lavelle, SSJ. He leaves behind two siblings, Sally Dean and Francis Lavelle.

Phil was drafted by the United States Army and served as a military police officer in Honolulu during the Korean War. Following his honorable discharge, he worked as a corrections officer at the Berkshire House of Correction and as a photo engraver at the Berkshire Eagle in Pittsfield.

Phil served as a legislative aide to House Speaker Bartley in the 1970's and shortly after that called Boston his home. He was hired as a court officer by the Supreme Judicial Court after his time at the State House and then rose to the appointment of Chief Court Officer in 1985- a position he held for two decades. He moonlighted in Mayor Raymond Flynn's office for many years, a friendly voice on the other end of the mayor's hotline helping many constituents of the city of Boston.
He enjoyed many trips with his gang to Notre Dame, multiple super bowls, the beloved "old country", in particular Belmullet, Ireland.

Phil called Misquamicut, RI his summer home and particularly enjoyed entertaining family and friends alike. He was always eager to hear stories from others and share many of his own, and always hoping his beloved Red Sox would get him to Labor Day and anticipating fall ball. Phil was the one many called when in need of a helping hand. He will be truly missed by many nieces and nephews, friends and former colleagues. Rarely would you meet a friend of Phil that didn't have a story to share, kind accolade or well wish to him.

Visiting hours at the William J. Gormley Funeral Home 2055 Centre St. WEST ROXBURY, Friday, September 16 at 9:30 am, followed by a Funeral Mass in Holy Name Church at 11:30 am. Relatives and friends invited.

In lieu of flowers please consider a donation to the Pan Mass Challenge, Team Kevin Fitz https://profile.pmc.org/tk0075.