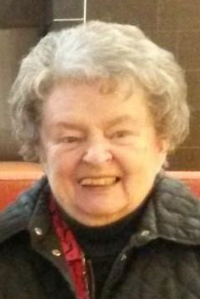 Mary T. Norton of West Roxbury, passed away peacefully on Sunday morning, August 14, 2022, at the age of 87.

She was a lifelong resident of West Roxbury until her final years when she lived at St. Patrick's Manor in Framingham. Mary was the daughter of the late Hugh and Mary Guilderson. She was the loving wife of the late Joseph C. Norton. She is survived by her son, Joseph C. Norton and his wife Jaceolyn of Framingham and her two cherished grandchildren, Davis and Cassandra, both of Framingham. Mary was the sister of the late Katherine Mulvaney of N. Weymouth and the late Ruth Boyle of Canton, and is survived by many nieces and nephews.

She was loved by family and treasured by friends and will be missed.

Funeral from the William J. Gormley Funeral Home 2055 Centre St. WEST ROXBURY, Tuesday, August 23rd at 9 am, followed by a Funeral Mass in St. Theresa Chapel at 10 o'clock. Visiting hours Monday 4-8 pm. Relatives and friends invited. Interment St. Joseph Cemetery. In lieu of flowers, donations in Mary's memory may be made to St. Patrick's Manor, 863 Central Street, Framingham, MA 01701.