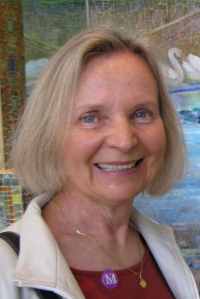 Gunilla Barbro Maria (Olsson) Méndez-Peñate died Monday, July 25, surrounded by her loving family at her home in West Roxbury, MA, following a long and brave struggle with cancer.

Born in Norberg, Sweden in 1943, she was a daughter of Helge and Maria Victoria "Tora" Olsson. Gunilla had an adventurous spirit, and as a young woman lived and worked in Stockholm, London, and Paris, where she met her husband of 55 years, Mario Méndez-Peñate. After a short courtship, they married in New York City and settled at first in Vermont, where Mario began his teaching career. Over the years, they lived in Sweden, New Hampshire, California, and Massachusetts; along with spending a couple of sabbaticals in Europe. Gunilla was loved and appreciated by students and faculty at the boarding schools where they lived and worked.

Gunilla loved traveling, meeting new people, enjoying delicious food, reading, and gardening. A devoted mother and wife, she is survived by her husband, and her daughter Larisa Méndez-Peñate of Cambridge, MA, and son Andrés "Andreas" Méndez-Peñate and his wife Manuela Igel and grandson Diego of Watertown. She also leaves behind her sister Ulla Olsson Brun of Norberg, Sweden, and nieces, nephews and in-laws, both in Sweden and the U.S. Finally, she will also be missed by the family's loyal Golden Retriever, Daisy.

She is predeceased by her parents, and her sister, Ingegerd Jönsson.

A private memorial is being held in her honor. The family is grateful to the Dana Farber Cancer Center for the superb care that Gunilla received. Memorial contributions can be made to Dana Farber Cancer Center, P.O. Box 849168, Boston, MA 02284-9168 and be directed to the research of Dr. Alexi Wright.