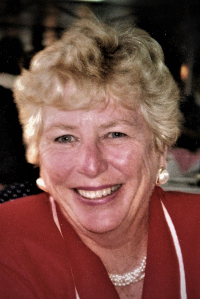 To live stream the Funeral Mass, click here.

O'CONNELL, Katherine L. "Kay" (Mitchell) of West Roxbury and West Barnstable, passed away peacefully July 3, 2022, at the age of 92. Born and raised in Arlington, MA. Beloved wife of the late John M. "Jack" O'Connell. Survived by her sister Helen Lennon of Waltham. Loving mother of Maureen (Robert) of Kingston, John (Briege) of Milton, Mark of West Roxbury, Christopher (Renee) of San Diego. Grandmother of Caroline and Mary Kate of Milton. Daughter of the late John E. and Helen L. (Killion) Mitchell of Arlington. Predeceased by her siblings: beloved twin sister Nancy J. Flinter of Framingham, Mary O'Mahoney of Potomac, John Mitchell of Hyannis, William Mitchell of Dallas, and Margaret Walsh of White Plains. Kay is also survived by many loving nieces, nephews, grand nieces, grand nephews and friends.

Kay's kindness and affection, sense of humor, sharp mind, and ready wit, will be missed terribly. She always put others' needs ahead of her own. She will be remembered by her family for her love, care, devotion and generosity. Kay enjoyed working in The Boston Public Schools for 30 years, first as a Home Economics teacher and later as a Special Education teacher and ETF. She had wonderful friendships that go back to her childhood. Kay enjoyed traveling, cooking, sewing and getting together with her Cape friends, her Arlington "Club" friends and her Framingham State College friends. Kay had a strong Christian devotion to her faith, she attended mass daily.

Relatives and friends are kindly invited to attend Visiting Hours: William J. Gormley Funeral Home, 2055 Centre Street, WEST ROXBURY, on Thursday July 7, 2022 from 4-8 p.m, Mass of Christian Burial will be held at St. Theresa of Avila Church, 2078 Centre Street, West Roxbury, MA Friday, July 8, 2022 at 10 a.m. To live stream the Funeral Mass, please go to sttheresaparishboston.com. Interment Mt. Benedict Cemetery. In lieu of flowers, donations may be made in Kay's name to a charity of your choice.