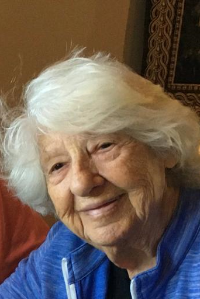 DiChara, Constance Marie passed peacefully in her home in West, Roxbury, MA on June 7, 2022, at the age of 95.

Constance was born in Boston on July 12, 1926. the daughter of the late Angelina (Paragona) and Alfonso DiChaira. Beloved mother of the late Michael DiChaira. Dear sister of the late Rose, Mary, Anna, Mildred, Angelo and Ralph.

Constance is survived by her loving sister Annette (Jones), granddaughter, Margaret DiChaira, great granddaughter, Cassidy Beltran and great, great grandson Isaac.

Constance is also survived by 11 loving nieces and nephews, 25 great nieces and nephews and 33 great, great nieces and nephews.

Out of respect to the family and the wishes of Constance, private services will take place. In lieu of flowers, donations to the Alzheimer's Association at alz.org| Donate to Fight Alzheimer's Disease can be made in her memory.