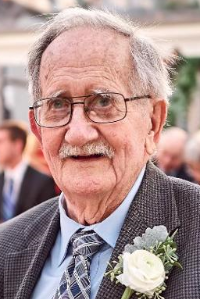 NICKERSON, Hilbert of Jamaica Plain, MA and Sebago Lake, ME, age 95, passed away peacefully May 24, 2022. Beloved husband of 72 years to Irene (Flynn) Nickerson. Born in Pubnico, Nova Scotia, son of the late Bernard and Hilda Nickerson. Devoted father of Christine Norton of Milton, Stephen (Marie) Nickerson of Salem, Marie (Jeff) Cutting of Sebago ME. Loving Bampy to 8 grandchildren: Matthew, Molly and Daniel Norton, Lauren Nickerson Upfold, Michael Nickerson, Sarah Cutting Mitchell, Hannah and Kate Cutting. Also loving Bampy to 7 great-grandchildren: Olivia and Joseph Norton, Cooper and Everett Upfold, Emma and Henry Nickerson, Millie Mitchell.

Hilbert was a US Navy Veteran and proudly served in WWII. He attended Boston Trade School to learn the plumbing trade and then joined Boston Plumbers Union Local 12 in 1948, becoming the 2nd longest serving member of 74 years.

Hilbert and Irene met in the spring of 1947 and married in the fall of 1949. They went on to raise 3 children. He was very proud of their accomplishments, especially that they all were able to attend and graduate from college. His grandchildren and great-grandchildren were his pride and joy. He attended sporting events, recitals, plays, graduations, birthdays, and weddings. The iPad for his 90th birthday allowed him to keep in touch when in-person visits weren't feasible. FaceTime visits with Bampy and Nana occurred frequently.

Hilbert enjoyed spending time at Sebago Lake, ME. He was especially proud of the cottage he built in 1963 with help from his brothers. It was a gathering place for extended family where he would spend all day preparing and cooking dinner for the entire family and many friends- chicken marsala being a family favorite. Nobody went home hungry.

Being an avid photographer, he enjoyed taking photos and videos and creating picture tile coasters to give to family and friends. Earlier in years he enjoyed fishing, whether it was catching trout in Jamaica Pond, flounders and mackerel in Quincy Bay, or salmon in Sebago Lake. He never went home empty-handed.

He continued to be always highly resourceful in plumbing and any other project at hand. In his older years when he wasn't able to participate hands-on, he enjoyed giving his sound input and guidance to anyone, offering up tools, parts, and anything else needed to do the job right.
Relatives and friends are respectfully invited to join us in celebrating the life of our beloved family patriarch.

Visiting hours: Monday, May 30, 3-6 PM at the Gormley Funeral Home, 2055 Centre St., West Roxbury, MA. Funeral Mass at St. Mary of the Hills Church, 29 St Marys Rd, Milton, MA , Tuesday, May 31 at 10 AM. Interment at Blue Hills Cemetery, Braintree, MA.