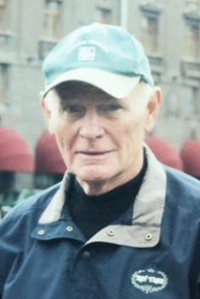 Frank Joseph McKernan, 87 of Needham Massachusetts, BUT formally of West Roxbury was born in Jamaica Plain in 1935 to parents Patrick and Mary, and his older (and much loved) brother Jack. He lived by the motto "Never Sweat The Small Stuff".

Always an optimist but also pragmatic, he served in the National Guard as well as a 40-year career as a guidance counselor in the Boston Public Schools. A 1956 graduate of Boston State, he leaves his wife of 56 years Mary (Tuohy) of Clare, Ireland; his daughter Mary of Milton, and his son James of Jersey City, NJ; and nephews Robert and John. He was beloved father-in-law to John Foy of Sligo, Ireland and Elaine (Geraldino) McKernan of Alto Alegre dos Parecis, Brazil. Jack, his loving brother, is deceased.

He was proud Papa/Papi to grandchildren Liam, Delia, Frankie Mo. He also leaves behind the best stories, laughs, LOVE and a knowledge of boxing second to none. He solved the world's problems in his weekly meet-ups with Jim and Jack Rowley.

Frank loved his life, his patient wife, kids and friends almost as much as he loved the back 9 at the George Wright.

We ask that family and friends raise a glass in his honor wherever they may be and give any expressions of sympathy to The Italian Home https://www.italianhome.org/give/

Visiting Hours at the William J Gormley Funeral Home, 2055 Centre St., West Roxbury on Sunday, May 22nd from 3-6pm. Funeral from the funeral home Monday, May 23rd at 9am. followed by a Funeral Mass in Holy Name Church, West Roxbury, at 10am. Relatives and friends enthusiastically invited. Interment St. Joseph Cemetery.

"Time is valuable, treat it as such." – Frank McKernan 1952.