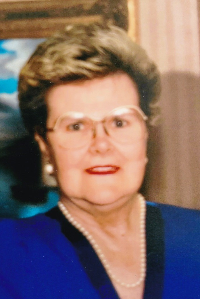 DUGGAN, Carol Marie (Brauer) of Quincy formerly of West Roxbury, passed away April 25, 2022 at the age of 87. She was the beloved wife of the late George D. Duggan, daughter of Herman L. and Catherine Brauer and sister of the late Frederick and Mary Brauer.

Carol was the devoted mother to Diane Rusckowski, Denise Kipp and her husband John, Paula Ryan, Greg Duggan and his wife Christine, and the late George Duggan, Jr. She was the cherished grandmother to nine grandchildren: Mike, Lauren, Joseph, Liam, Kayleigh, Michael, Erin, Patrick and Travis and four adored great-grandchildren: Harrison, Veronica, Isla and Alexander. She is survived by many loving nieces and nephews.

Carol worked as a medical secretary for many years. She enjoyed fashion, art, reading and staying in touch with many long time friends.

A Funeral Mass will be celebrated on Saturday, April 30th at 11:30am in Holy Name Church, 1689 Centre St. West Roxbury. Relatives and friends invited. Interment to follow at St. Joseph Cemetery.