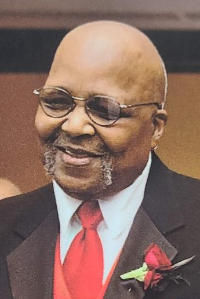 To view the Celebration of Life Service for Deric White on Wednesday, April 6, 2022, @ 10:00 AM, please use Zoom link: https://us02web.zoom.us/j/83450285985
Meeting ID: 834 5028 5985
Passcode: 876013



Irving D. (Deric) White away peacefully at home on March 28, 2022, after a long, hard-fought battle with metastatic cancer. A proud and native Bostonian, Deric attended Boston Public Schools and graduated from Boston Technical High School in 1961. Before retiring to New Haven, Connecticut, Deric worked for the Boston Cab Company and H.P. Hood as a commercial driver.

A devout New England Patriots fan, Deric would hardly be seen without his Pats jersey, and he enjoyed sending his weekly "Go Pats!" text messages on game day. His attitude the following day would be the direct result of a Pats win or loss. An admitted news junkie, Deric stayed glued to TV news programs and his daily newspaper - that is, until he was gifted his favorite accessory: his Apple iPad! He kept up with everything on social media and could tell you about happenings in your local area before even you knew about them! Deric's gift of gab, quick wit, sharp memory, and his book and street smarts were unmatched. We will miss these and many things about him.

Deeply devoted to his family, Deric leaves to mourn his beloved wife of many years, Shannon. He is survived by his loving children, sons WayMan Payne, Sr. (Erica), Deric Marcell Thompson, Sr. (Fay), and Antwan Steed (Theresa Davis); daughters Nicole Dumas-Little (Corey), Erica Dumas, and Sheena Steed; he is survived also by his sister Loretta Brooks, brother Marco White, Sr. (Eileen), and former spouse Carolyn Dumas. He was a proud grandfather to Carmen, William, WayMan Jr., LeeDai'Ja, Shawn, Naomi, Devin, Aaliyah, Amylha, Dallys, and Deric Marcell Jr. His memory will carry on through a host of loving nieces, nephews, sisters-in-law, and lifelong friends from Mission Hill. His parents, Mary E. White and Benny F. White, sister Laurene J. Ellison, and brothers Donald White, Sr., Benny White, Sr., and Isidore White, preceded him in death.

Charitable donations in Deric's memory can be made to the Smilow Cancer Center at Yale-New Haven Hospital and Masonicare Home Health & Hospice in place of flowers.

Visiting hours will be at Gormley Funeral Home, 2055 Centre Street, West Roxbury, on Tuesday, April 5, from 4:00 PM - 7:00 PM. The funeral service will be Wednesday, April 6 at 10:00 AM, also at Gormley Funeral Home.

A Zoom link for the funeral service will be made available on Tuesday, April 5. To leave a condolence message for the family, please click below.