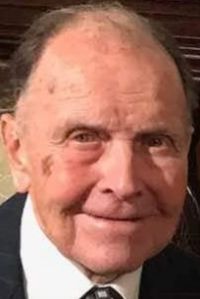 On December 27, 2021, Robert P. Costello of Roslindale peacefully passed away at home surrounded by his loving family. He leaves his wife of 57 years, Virginia (MacEachern), and his four favorite daughters and their spouses: Lynn and Peter McCann of Mason, NH; Patricia and John Frost of Warwick, RI; Mary and Brian DeSeignora of Boston; and Sandy Costello and Frank van Overbeeke of Brookline. Bob will be remembered as the best Papa to his 12 grandchildren and 7 great-grandchildren. He was the beloved Uncle Bobby to many nieces and nephews.

Son of the late John Costello and Christina Duffy, he is predeceased by his brothers John Costello of Roslindale and Deacon Richard Vaughn of Medfield.

Growing up in varying neighborhoods of Boston, Robert told many stories of his youthful pursuits in Jamaica Plain and Roxbury. He attended the High School of Commerce and after graduation enlisted in the United States Marine Corps. He spent 53 years working for the United States Postal Service, starting his career in Roslindale, where he met the love of his life, started a family, and remained. Robert was a devout Catholic and lived his life according to the Golden Rule. He valued family and there was nothing he wouldn't do for them.

He passionately loved sports, especially baseball. Known as a great outfielder, he spent many of his young adult years playing in various leagues around the city. He refereed and umpired football, basketball, softball, and baseball games all over Massachusetts. He never missed a sporting event for his children or grandchildren and was always the loudest shouting spectator watching. He enjoyed traveling down to Florida each year with his brother to watch Spring Training!

Visiting hours will be held on Wednesday, January 5th from 4-8 PM at the William J. Gormley Funeral Home, 2055 Centre Street, West Roxbury, MA 02132.

Funeral from the Gormley Funeral Home on Thursday, January 6th at 9 AM followed by a Mass of Christian Burial at Holy Name Church, 1689 Centre Street, West Roxbury, MA at 10 AM. Interment St. Joseph Cemetery, West Roxbury.