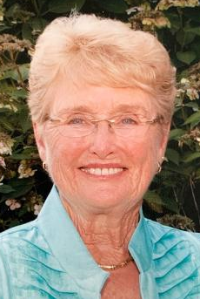 To view Livestream of the Funeral Mass for Trudy Harrington December 30, 2021 at 10:00am.

Gertrude "Trudy" R. (Hargraves) Harrington, 83, of West Roxbury, MA and the Hummocks, Portsmouth, Rhode Island, passed away peacefully on December 24, 2021 from complications after cancer surgery. She is preceded in death by her husband of 57 years, John T. Harrington, M.D. She leaves behind seven children and their spouses, Trudy and Andy Becker of Blacksburg, VA, Kathleen and Andrew Clark of Houston, TX, Daniel Harrington of West Roxbury, Ann and Mike Murphy of Westwood, John and Bethany Harrington of Little Compton, RI, Mark and Deanna Harrington of Houston, TX, and Tim and Kelly Harrington of West Roxbury, and 21 grandchildren and 3 great-granddaughters. In addition, she leaves her sister and her husband, Helen and Joe Santos of Swansea, and her sister-in-law Clarice Hargraves of Fall River, the wife of Trudy's late brother John, and her brother-in-law, the Honorable Edward F. Harrington of Tiverton, RI, and sister-in-law Louise Harrington of Fall River, MA.

Born and raised in Fall River, the daughter of John and Helen Hargraves, Trudy attended B.M.C. Durfee High School Class of 1955. She went on to graduate with a nursing degree (R.N.) from Union Hospital School of Nursing, receiving the Florence Nightingale Award for the most outstanding nursing student in her class. She married John, her high school sweetheart, in the summer of 1960. The pair moved to New Haven, CT so that John could finish medical school at Yale and she could begin her nursing career. Their first child was born in Fall River. In the following years, six more children followed as Trudy and John spent time in Chapel Hill, NC and then settled in West Roxbury, where they made their permanent home and raised their family.

A constant through Trudy's life was her commitment to her Catholic faith. One manifestation of this commitment was her work through the years supporting Holy Name Parish and Holy Name Parish School in West Roxbury. Since becoming a member in 1965, she performed numerous services and roles there: she organized the baby Baptismal bibs, was involved with Girl Scouts and Bernadine's, and directly supported the church building itself. Among all her contributions, she will be chiefly remembered by hundreds of West Roxbury and Roslindale residents as Mrs. Harrington, the Holy Name School nurse for over 15 years, where she was known to tell many that they would be okay and to go back to class.

For Trudy, education was of vital importance; it was crucial to her, to how she brought up her seven children, and to how she showed care. Having graduated nursing school herself with distinction, she supported her children through their primary, secondary, and higher educational degrees at Holy Name, Boston Latin, Catholic Memorial, Holy Cross, Suffolk, Boston College, and more—schools to whose organizations she contributed, whose teams she took on and fervently rooted for, and to which she continued generous giving across the years through actions such as joining the Holy Cross President's Council. Trudy also returned to her own academics when she earned a B.A. in English from Emmanuel College in 1981. In addition, she played a key role of support and patronage for her many grandchildren's academic success as well, particularly their higher education.

Hand in hand with her fervor for education was her passion for and extensive experience traveling. Over the course of her life, she visited more than 20 countries together with John; she met Prince Charles, saw the Church of the Holy Sepulchre in Jerusalem, and returned again and again to Ireland—to explore all ends of the country from Cork to Valencia Island to Galway to Dublin. Across all these travels, no place was more fiercely loved than her beloved Hummocks in Portsmouth, RI, where summer after summer she sailed and swam and made countless chowders from the spoils of her family's quahogging expeditions. It was a place of togetherness with the true joy of her life, her family.

Trudy also loved reading, keeping a record of books she read each year, and she passed down that love to her children and grandchildren, who participated in the annual Harrington summer "50 Books" reading challenge. And just as she rooted hard for the teams of any school her family was involved with, she was also an avid Red Sox, Patriots, Bruins, and Celtics fan. She never missed a game—anyone could count on seeing the games on the TV of her West Roxbury home or drifting up from the radio at her Hummocks' red house.
She especially cherished the holy days of Christmas and Christmas Eve and loved gathering the family, first at Holy Name Church for Christmas Eve Mass, followed by an expansive family meal accompanied by gifts and laughter at her home. It was fitting that she passed away on Christmas Eve surrounded by her family.

Visiting Hours will be held at the Gormley Funeral Home, 2055 Centre St., West Roxbury, MA on Wednesday, December 29th from 4:00-8:00 p.m. A Funeral Mass will be celebrated in Holy Name Church, 1689 Centre St, West Roxbury, MA on Thursday, December 30th at 10:00 a.m. Burial immediately following at St Patrick's Cemetery, 2233 Robeson St., Fall River, MA.