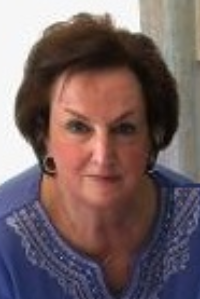 FERZOCO, Mary Ann, age 67, of Stoughton, formerly of Roslindale, died peacefully, surrounded by her family December 15, 2021, after a sudden and brief illness. She was the loving mother of Jessica (John) Conlon of Millis, Kristin (Mike) McLaughlin of Northborough, and Jonathan (Ashley) Simoni of Bridgewater. MaryAnn's greatest treasures in life were her adoring ten grandchildren: Brendan, Samantha, Logan, Mason, Landri, Cody, Matthew, Nyla, Nathan, and Eleanor. She is also survived by her longtime companion, Jeff Barnes of Brockton, his children, Jason, Jimmy (Michaela), and Katie, and his granddaughter Lily. MaryAnn was a faithful daughter to her beloved late parents, Eleanor (Renzi) and Anthony Ferzoco Sr. of Roslindale. She was the sister of Dennis (Judi) Ferzoco, Barbara (Joe) Menendez, Paul (Nancy) Ferzoco, Lorraine (Joe) DeCristofaro, the late Dolores (John) Bourke, Edward (Linda) Ferzoco, James (Anne) Ferzoco, Ellie Ferzoco Murphy (her longtime companion Bill), David (Susanne) Ferzoco, the late Anthony (Joan) Ferzoco Jr., Carolyn (Kevin) Sheehan, Gerard (Deborah) Ferzoco, Gregory Ferzoco, Gary Ferzoco (his longtime companion Mariellen), Michael Ferzoco (his partner Michael), and Nancy (Dan) Trodden. Dozens of nieces and nephews, cousins, and friends also deeply mourn MaryAnn's untimely passing.

Born May 19, 1954, the eighth of seventeen children, MaryAnn enjoyed a childhood full of excitement and love. MaryAnn was a beautiful child, with curly locks and bright blue eyes. Her mother often recalled that a neighboring family, unable to have any children of their own, asked the Ferzocos to let them adopt MaryAnn, and even offered to give the family ten thousand dollars to do so. Of course, the Ferzocos only held her tighter as a result!! MaryAnn was always helpful with the countless domestic tasks that occupied her mother's attention, especially as she helped to raise her nine younger siblings. She loved little children, and later in life MaryAnn worked caring for infants and toddlers.

A bundle of energy, MaryAnn animated any room. She was a constant presence in the kitchen, whether in her own home, the homes of her children, or the longtime Ferzoco family home on Metropolitan Avenue in Roslindale. Donning an apron and her signature slippers, MaryAnn prepared everything from scratch – from homemade pasta, gnocchi, ravioli, tortellini, meatballs, and sauce, to cookies, pastries, and desserts of such a quality that her family often encouraged her to open her own bakery. More than any of the other Ferzocos, MaryAnn learned to prepare traditional Italian recipes from her mother and grandmother and emulated their cooking. She was a cultural treasure. MaryAnn never walked into someone's home without beautiful food that she had prepared just for them. For her, cooking was an act of love. She often prepared a favorite dessert or meal for her grandchildren, nieces, and nephews on a birthday, graduation, wedding, or other special celebration. At every holiday, MaryAnn was on her feet, eager to make sure everything went smoothly and that everyone else enjoyed themselves. In the evenings, she relaxed by watching Wheel of Fortune and calling her mother to compare notes on which puzzles they each had been able to solve. She always made an effort to call her loved ones and to stay in touch.

MaryAnn cared about presentation, whether it was keeping her home immaculate or styling her hair and make-up. She loved flowers and gardening, and her backyard was pristine. She decorated enthusiastically for every holiday and dressed for every occasion. She knew that she could be wonderfully eccentric, but everyone knew they could count on her. For many years, MaryAnn delighted in washing and curling her mother's hair, as well as coloring her sisters' hair. She loved telling stories and reminiscing in that old family kitchen as relatives enjoyed a cup of tea and pizzelles. She was a devoted caretaker for her sister Dolores, who died in 2013, and for her cherished mother who died in 2020, both of whom endured prolonged illnesses. In both instances, MaryAnn was a constant presence: cooking, washing, cleaning, and organizing. Despite whatever circumstances she faced in her own life, MaryAnn always extended a helping hand. Her family will miss her generosity of spirit immensely.

Visiting hours Sunday, December 19, from 2-6 pm at Gormley Funeral Home 2055 Centre St. West Roxbury. Interment private. In lieu of flowers donations may be made to Tufts Children's Hospital 800 Washington Street, #231 Boston, MA 02111.