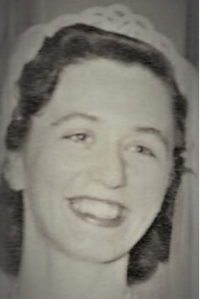 Joan was born on October 20, 1933 and received into heaven peacefully, surrounded by her family and much love on November 12, 2021. She was the adored daughter to Katherine and Patrick McHugh from Fox Harbour, Newfoundland Canada and Dorchester, Massachusetts. Sister to Barbara, Doris, Patricia, Mary Lou, Patrick and Michael.

Beloved wife to Michael Burke of Galway Ireland (deceased) and "Ma" to Catherine Cameron and her fiancé Michael Legere of Norton; Michael and Terri Burke of Roslindale; Joanne Breen of Norton; Eileen Burke of Pembroke; John and Deneen Burke of Wrentham; James and Diana Burke of Dedham and Annie and Thomas Lynch from Stoughton. Also, mom to Thomas Burke, Patricia Mowatt, Theresa Jamieson and Stephen Burke, whom are all our angels now. Joan is also survived by 29 grandchildren and 33 great-grandchildren.

Joan McHugh was a very strong independent woman, highly educated throughout her life. In addition to being a mom and homemaker for her eleven children and husband, she graduated from Katherine Gibbs Secretarial School in Boston where she received an Administrative Certificate of Honor; Graduate from Quincy College, Magna Cum Laude with an Associate Degree in Paralegal Studies. Also, Office Manager supporting Michael J. Burke & Sons Landscaping Company for twenty years.

Her unwavering love for her family, grandchildren and life itself was enduring and has made all of us extremely proud that she was our mentor and leader in our life (how extremely blessed we are…). Joan will be deeply missed by all ~ Knowing that she is in Heaven with her very loving family, leaves us with a deep appreciation of who she was and will continue to be to all of us. Our cherished Mom and Nana will now forever live in peace.

Funeral from the William J. Gormley Funeral Home 2055 Centre St. WEST ROXBURY, Thursday, November 18th at 9 am, followed by a Funeral Mass in Sacred Heart Church at 10 o'clock. Visiting hours Wednesday 4-8 pm. Relatives and friends invited. Interment St. Joseph Cemetery. In lieu of flowers, donations may be made to Children's Hospital, 300 Longwood Avenue, Boston, MA 02115, https://secure.childrenshospital.org. For directions and guestbook www.gormleyfuneral.com.