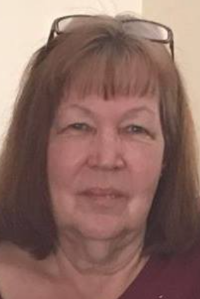 Maureen "Moe" (Sweeney) Rowell, age 66 of Plymouth, passed away peacefully at home, surrounded by family and friends on October 11, 2021 after a courageous battle with a rare form of kidney cancer. Maureen was predeceased by her father, William Sweeney of Roslindale and Manomet, and her aunt and uncle Christine and Herbert "Bing" Gunning also of Roslindale. She is survived by her loving mother, Dolores Sweeney of Roslindale, her friend and former husband Michael Rowell (Cheryle) of Brighton, her beloved children, Lisa Kuykendall of Stoneham, MA, and Michelle Rowell of Plymouth, MA, her sisters Barbara Gray (David) of Roslindale, Connie Miller (Kevin), of Brockton, and her brother Billy (Sheila), of Dedham, her niece, Madison Miller of Brockton, and her friend and companion for many years, Larry Parsons of Plymouth.

Maureen, who was affectionately known as "Moe" was born on January 30th, 1955 to William and Dolores Sweeney in Boston, MA. After graduating from Roslindale High School she went on to study dental assisting and phlebotomy. She spent many years caring for patients as a phlebotomist at the Hebrew Rehabilitation Home in Roslindale.

Maureen went on to have two children, Lisa, in 1984, and Michelle in 1986, with her former husband and good friend, Michael Rowell. Together, they purchased a home in the Manomet section of Plymouth, where Maureen, her parents, siblings, aunts, uncles, and cousins have spent many summers at the family's beloved set of cottages on Bartlett Pond.

While raising her girls, Maureen worked in the restaurant industry where so many of her co-workers and customers became wonderful, life-long friends – particularly at the Indian River Inn in Manomet and the Harborview Restaurant in downtown Plymouth.

More recently, she spent several years providing reception and warehouse support at Glidecam, a camera stabilization company, where again, she made so many caring friends.

Maureen loved spending time with family, eating out, and taking her constant companion, Buddy, for walks around the neighborhood. She loved spending summers at the beach and created many special memories with Eileen, Lyn, and the whole gang out past the point on Plymouth Beach.

Relatives and friends are kindly invited to attend visiting hours in the William J. Gormley Funeral Home, 2055 Centre Street, WEST ROXBURY on Monday, October 18, 2021 from 4:00 p.m. to 8:00 p.m. A Mass of Christian Burial will be celebrated on Tuesday, October 19, 2021 at 11 o'clock in St. Bonaventure Catholic Church, 803 State Road, Plymouth. Interment will follow in Vine Hills Cemetery.

In lieu of flowers, donations can be made to the Office of Development, Attn: Catherine Stephens, BIDMC, (OV), 330 Brookline Ave., Boston, MA 02215. Please make checks out to "BIDMC" and indicate "Dr. David Einstein's Research Fund".