Vera Frances (Fitzemeyer) Antaya
8/29/2021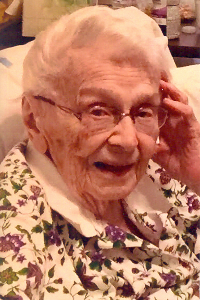 Vera Frances (Fitzemeyer) Antaya
8/29/21

Vera F. Antaya passed away peacefully in her home in Medford, surrounded by her family. She was 96 years old.

Vera was born in Boston, Massachusetts on November 11, 1924, the daughter of Frederick and Vera (Leavitt) Fitzemeyer. She was educated in the Boston Public Schools. On August 10, 1946 Vera married the love of her life, Joseph F. Antaya, who predeceased her in December, 2003.

A child of the Great Depression, Vera was frugal and ingenious. She was a woman of great inner strength. In 1952 she was stricken with polio. With the support of Joe and her family, she regained her strength, never succumbed to possible limitations and actively raised and participated in the lives of her family. Vera was a loving mother and confidante to her children and members of her wider family. She was always available to listen and discuss whatever issue was brought to her.

Once asked, "How would you like to be remembered?" She responded, "Simply as a good person who loved to laugh." It's a fitting epitaph for this humble, loving woman.

Vera was predeceased by her sister Ida Bartsch.

She is survived by her children, Joseph Antaya, Jr and his wife Mary of Somerville, Paul Antaya of Medford, Kay Antaya of Andover, Janice Evans and her husband Jeffrey of Nashua, NH, and Susan Passatempo and her husband Peter of Medford; grandchildren, Kerry Ellis and her husband Christopher, Kevin Antaya and his wife Ana, Caleb Evans and his wife Heather, Matthew Antaya and his wife Whitney, Joshua Evans and his wife Katherine, Michael Antaya and his wife Melissa; and beloved great grandchildren, great great grandchildren, nieces and nephews.

As per her request there will be no formal funeral service. At a time of their convenience the family will gather at Glenwood Cemetery in Everett to lay Vera and her beloved Joseph to rest.

Donations in Vera's memory may be made to an animal shelter or care center of your choice.