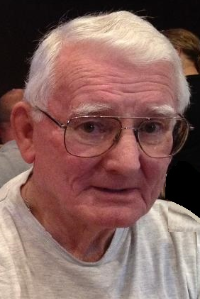 Edward J. Galvin, Jr., 87, of West Roxbury, passed away peacefully on April 27, 2021. Edward was born in Boston, was a graduate of BC High and retired from the DCR after 50-year career. Edward was a proud veteran of the US Army and US Air Force, retiring in 1994 with the rank of Senior Master Sergeant.

Edward was pre-deceased by his parents, Edward J. Galvin Sr., and Dorothea (Bingham) Galvin, of West Roxbury, his brother, John Galvin and sister Dorothea (Galvin) White. Edward was the loving husband of the late Carol A. (Madden) Galvin and dad to his loyal companion, his dog, Snoopy. Edward is survived by his loving daughters Lisa Grimes of Middleboro and Erin Lunn of Walpole. He was also the devoted Grampy of Edward, Sean and Kevin Grimes of Middleboro and Ryan, Elisabeth and Timmy Lunn of Walpole. He was the loving friend of Rosemarie Hrubi of Reading. He is also survived by many loving nieces, nephews, neighbors and caregivers.

Ed was a humble man who loved attending Church and doing home improvement. Nothing brought him greater joy than spending time with his family by going to the movies, relaxing on his deck and especially seeing the lights at Christmas. He loved to send greeting cards with 'paychecks' to his grandchildren for every 'Hallmark-created' occasion.

Memorial donations may be made in his memory to the Alzheimer's Association (act.alz.org) or Cystic Fibrosis Foundation (fightcf.cff.org)

Visiting hour at the William J. Gormley Funeral Home, 2055 Centre St. WEST ROXBURY, Monday, May 3rd at 9 am, followed by a funeral mass at St. Theresa Church at 10 o'clock. Relatives and friends invited. Interment at St. Joseph Cemetery.