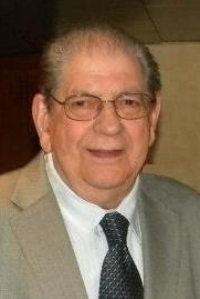 Charles R. Anastos
1930 - 2021

Charles R. Anastos, 90, of Hyde Park, Mass., passed away peacefully on April 14, 2021. He was born November 27, 1930 in Boston and married his late-wife Elizabeth (Glynn) Anastos on November 24, 1949.

Charles is survived by his children, Regina McEachern, Joan Lilley, Antonia Pruitt and her husband Roger, and Charles Anastos and his wife Kerri. He was preceded in death by his son, George Anastos. Charles was the loving patriarch of a large family, having 11 grandchildren and 9 great-grandchildren at the time of his passing.

He also leaves behind his siblings, Joseph Anastos, Emma Wood and her husband Harold, Anna Buches and her husband Larry, George Anastos and his wife Carol, John Anastos and his wife Gail, James Anastos, and Nancy Kramer and her partner Frank Lansing.

Charles was an avid New England sports fan, especially devoted to his beloved Boston Red Sox. Aside from his family, there was little he loved more than good food, old Western movies, and his late-cat Wally. He enjoyed afternoons on his porch chatting with his mailman, Mike, and cracking jokes with a twinkle in his eye. He will be sorely missed by all who had the pleasure of knowing him.

Visiting hours will be held Wednesday, April 21st from 4-7 p.m. at Gormley Funeral Home 2055 Centre St. West Roxbury. Funeral from the Gormley Funeral Home, Thursday, April 22nd at 9 a.m. followed by a Funeral Mass in St. John Chrysostom Church at 10 a.m. Interment St. Joseph Cemetery. In lieu of flowers, please consider donating to the American Cancer Society in remembrance of his wife, Elizabeth.