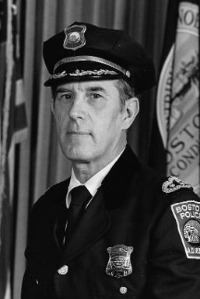 KRECKLER, John F. (BPD Superintendent Retired) age 97, April 3, 2021, a lifelong resident of Mission Hill, Roxbury Crossing, spent the last year of his life at Bridges by Epoch, where he was cared for lovingly, while maintaining his dignity and love of life.

John was a child of the Depression, and he and his brothers and sisters were raised by their father after their mother Elsie passed away at the young age of 37. Those were tough times, but John remembered them fondly and was proud of his father for keeping the family together, even when advised to split them up.

He attended Holy Trinity Grammar School and graduated Mechanic Arts High School in 1941. John enlisted in the Army in March of 1943 and landed with Battery B, 110th AAA Gun Battalion on D-Day in Normandy and also fought in the Battle of the Bulge. He was honorably discharged in 1946 with the rank of First Sergeant. Later that year he was appointed Patrolman in the Boston Police Department and after working his way up the ranks, retired as Superintendent in 1983 after 37 years of service.

John then became Director of the NE Institute of Law Enforcement at the campus of Babson College, where he continued his service for 12 years, retiring in 1995.

John never married, but was devoted to his extended family, with whom he was always loving and generous. He was predeceased by his father Francis X. Kreckler, mother Elsie and siblings Martha, twins Franny and Catherine and youngest brother Paul. His nephews and nieces Barbara DiPietro, Paul Kreckler, Thomas Kreckler, Theresa Heffernan, Marilyn Barr, Daniel Kreckler, the late William Kreckler and their families will greatly miss him. He never forgot a birthday, anniversary or holiday. John always entertained with his many stories and remembrances and loved to gently tease us all. His dry sense of humor was endearing. He was an icon on Mission Hill with daily attendance of mass, followed by his neighborhood walks.

What sustained John through his life was his love of family and deep faith as a devoted Catholic and longstanding parishioner at Mission Church in Roxbury.

Funeral from the William J. Gormley Funeral Home, 2055 Centre Street, WEST ROXBURY on Monday, April 12, 2021 at 8:30 a.m. followed by a Mass of Christian Burial in the Basilica of Our Lady of Perpetual Help "Mission Church" 1545 Tremont Street at 10 o'clock. Visiting hours Sunday, April 11th from 2:00 p.m. to 5:00 p.m. Interment New Calvary Cemetery.
In lieu of flowers, please consider a donation to Mission Church or to the DAV.