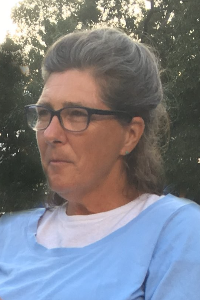 Lawre Richmond Goodnow (1962-2021) lost her battle with pancreatic cancer on March 27, 2021. She passed away peacefully at home in Little Compton surrounded by her family. She leaves behind Phil Goodnow, her husband of 37 years, and their three children and their families: Hilary Goodnow and John Prevedini; Hannah Goodnow, Elia Del Molino and Maxwell Goodnow Del Molino; and Jonathan Goodnow and Rebecca Kremens. She is also survived by her siblings Helen Richmond Webb, Bill and Karen Richmond, Josie Richmond and Tom Arkins, and their families.

Lawre was a devoted wife, mother, sister, aunt, and grandmother, a 30-year veteran of early childhood and art classrooms, an artist in her own right, a champion of green and open space, and a wicked tennis player. Lawre advocated for the community and inspired everyone with her determination to be a good steward of the environment whether it was supporting local farms, finding creative solutions to single-use plastics, or working to preserve open space. As an artist, Lawre's work echoed her passion for nature and the places she loved most - gardens, fields, stone walls, coastal waters, starry skies, and snow-covered hillsides. Her choice of heirloom patterns, imagery, and fabrics told the stories of her life through recycled shirts, skirts, bed linens, and sweaters.

For nearly 60 years, Lawre epitomized kindness, teamwork, and equality with her own unique blend of patience, resolve and perseverance. She inspired everyone to be their best selves and move through the world with style and grace. She is loved and will be missed. "The gloom of the world is but a shadow. Beyond it, yet within our reach is joy. Take joy!" - Fra Giovanni Giocondo, 1513

In lieu of flowers, we invite you to support the Sakonnet Preservation Association (SPA), an organization close to Lawre's heart. Their work protects Little Compton's natural riches of forest, wetland, coast, meadow, and open lands, all of which are vulnerable. Gifts in Lawre's memory can be sent by mail to Sakonnet Preservation Association, PO Box 945, Little Compton, RI 02837 or to the SPA's donation link on its website at sakonnetpreservation.org.

A celebration of Lawre's life will be held later this year in Little Compton.