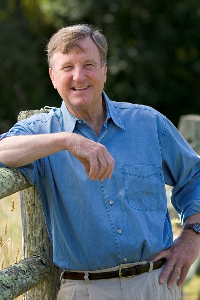 Benjamin (Terry) Vroom White III, died peacefully at home after a prolonged struggle with Parkinson's Disease. He is survived by his wife of 51 years, Elizabeth (Poo) White; his siblings James (Jim) White, Richard White, and Charlotte (Holly) Cowan; his children Charles White, Constance (Annie) White and her husband Kenneth Rampino; his grandchildren Charlotte (Maisie) Rampino and Isabelle Rampino; and many nieces and nephews. He was predeceased by his parents, Benjamin V. White Jr. and Charlotte G. White, and his older brother, Thomas White.

Terry was a graduate of St. Paul's School, Harvard College, Boston University School of Law, and served in the United States Navy (1964-1967). In 1981, he co-founded the law firm, Vetter & White, in Providence, RI, where for over thirty years he practiced and managed the firm with his partner George Vetter. During his time in Providence, he and his beloved wife, Poo, raised their children. They summered and eventually retired in Westport, MA, where Terry devoted his time to family, friends, sailing, and the Westport Land Conservation Trust.

As a mainstay at the WLCT, Terry advocated for the preservation of Westport's countryside for decades, first as a volunteer, then a board member, and eventually as president. During his turn at the helm, he oversaw the protection of over 1,000 acres of natural habitat, farmland, and historic sites. He helped the small organization of dedicated volunteers grow into one of the most well-regarded land trusts in Southeastern New England.

To know Terry was to respect his character: he was a wise, witty, and genuinely warmhearted gentleman who cherished family, friends, and the joy of living above all else. The sparkle in his eyes will be profoundly missed.

A celebration of life will be announced at a later date. To leave an online condolence please visit www.potterfuneralservice.com. Memorial contributions in memory of Terry White may be made to the Westport Land Conservation Trust, P.O. Box 3975, 573 Adamsville Road, Westport, Massachusetts 02790, westportlandtrust.org.