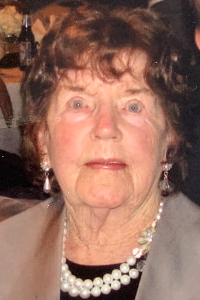 To view Livestream of the Funeral Mass for Nora Connolly March 31, 2021 at 11:00am.

CONNOLLY, Nora of Westwood, formerly of Roslindale on Saturday, March 27, 2021, passed away peacefully at home surrounded by her loving family. For 58 years Nora was the beloved and devoted wife of Patrick Connolly. Nora and Pat's legacy lovingly continues with their 7 children: Patricia Butler and her husband Richard of So. Attleboro, Margaret Bernazzani and her husband Richard of West Roxbury, Noreen Chmielinski and her husband Christopher of Walpole, Marion Emslie and her husband George of Attleboro, Brian Connolly and his wife Pamela of Walpole, Thomas Connolly and his wife Mimi of West Roxbury, Ann-Marie C. Wilson and her husband Kevin of Westwood, and their 27 grandchildren and 27 great grandchildren.

Nora was born in Barna, Co. Galway, Ireland. She was pre-deceased by her parents Michael and Margaret Crowley and her siblings Michael, Mary Corbett, Bartley, Delia Ryszka, Martin, Kate Thomas, Annie Crowley, Patrick, Margaret Crowley, and John. Survived by her sister Julia and brother Thomas and many cousins, nieces, nephews, great nieces and great nephews in Ireland, England, Australia, and the United States. Nora immigrated to the US in 1950 originally joining her Aunt Annie in Portland, ME, eventually settling in Boston, MA where with much pride she gained her US citizenship. Nora worked many years providing comfort and care to countless patients. Strengthened by her fervent belief in God and our Blessed Mother, Nora lived her life lovingly committed to her family. Driven by her infinite zest for life, strong work ethic, endless energy, and love of a good party, Nora engaged everyone she met with her friendly Irish charm. May God hold her in the palm of his hands as she joins all those who have gone before her especially her beautiful granddaughter Talia Emslie and her dear son-in-law Trooper Mark S. Charbonnier.

Funeral from the William J. Gormley Funeral Home 2055 Centre St. WEST ROXBURY, Wednesday, March 31st at 10am. followed by a Funeral Mass in St. Mary's of the Assumption Church, Dedham at 11 o'clock. To live stream the Funeral Mass go to www.harborview.live. Visiting hours Tuesday 4-8 pm. Relatives and friends invited. Interment New Westwood Cemetery. In lieu of flowers, donations may be made to: The Catholic TV Network, P.O. Box 9196, Watertown, MA 02471.