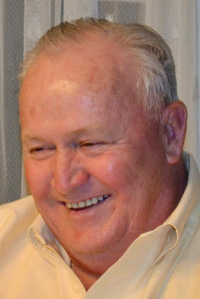 Feehily, Paul F. Of West Roxbury, formerly of Hyde Park and South Boston, passed away on March 12, at the age of 77.

Brother of Jack Feehily of Oklahoma, Michael Feehily of Milton, Eddie St. Martin of Foxboro and preceded in death by his brothers, Gerald Feehily, John St. Martin and Paul St. Martin. Son of the late Michael and Lillian (Fitzgerald) Feehily and Marie (Christadoro-St. Martin) Feehily.

He is survived by his former wife Christine (Lane) Feehily. Loving father of Kevin Feehily and his wife Michele of Marlborough, Christopher Feehily, and Brian Feehily of West Roxbury.

Grandfather of Isabel Feehily, Jonah Glidwell, and Paul Michael Feehily.
Beloved friend of Sharon Thornton.

Also survived by many nieces, nephews, and many wonderful friends and neighbors.

Born in Dorchester before moving to Hyde Park. After graduating from Hyde Park High School, he served in The National Guard and was a member of the Sheet Metal Workers Union before beginning a career in sales for Blake & Rebhan and later as a sales manager for National Car Rental. Retired from Liberty Mutual, Paul was an avid golfer and loved telling golf stories. He was proud to have 35 years living clean & sober and was able to help others on the path to achieve sobriety.

Visiting hours will be held in the William J. Gormley Funeral Home, 2055 Centre St., West Roxbury on Thursday March 18th from 4:00 – 8:00. Funeral private. Interment will be held at a later date in the Cedar Grove Cemetery, Dorchester. In lieu of flowers, donations may be made in Paul's memory to the Gavin Foundation at www.gavinfoundation.org.