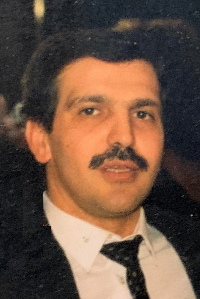 Tsoukalis, Nikolaos N. of West Roxbury Massachusetts, formerly of Kos & Kalymnos Dodecanese Greece died peacefully at home on February 16, 2021. Nikolaos was the beloved husband of Nomiki (Vallas) Tsoukalis, Loving father of Mary Irene (Tsoukalis) Steeves and Nikitas Tsoukalis, Loving father-in-law of Adam Steeves and Dara (Slesnick) Tsoukales, Loving grandfather of Nicholas and Noah Tsoukalis and Nomiki Steeves. Nikoloas leaves his brother Mixalis and Zaxarias Tsoukalis and his mother Irene Tsoukalis behind. Niko also left behind many nieces, nephews, friends and countless souls he came in contact with.

Niko was born on Kalymnos island in Greece on 9/25/55. His father Nikitas, was a sponge diver and spent his later years working as a merchant marine for Aristotle Onassis. Niko took to the seas in the early 1970's and followed in his father's foot steps working as an engineer on a oil tanker. He arrived in the United States after the oil embargo ended(he was stuck at sea for 6 months) and his boat docked in Seattle Washington. With a free spirit and a few months worth of cash in his pocket he decided he would explore the United States. He crossed the US by train until he finally settled in Boston, Massachusetts where he was eventually introduced to his wife, Nomiki at a get together of Kalymnians living in the area. After meeting his soon to be wife he proclaimed he would be married to her in 30 days and he did just that (give or take few weeks). Niko was a dreamer and aspiring entrepreneur. Before reaching the age of 25 he had launched multiple businesses including an import export business, vending machine business, pizzerias, a restaurant provisions company a successful chain of Donuts shops and more. Niko was known for his generosity, optimism and "never ever ever" quit attitude.

To sum up his approach to life we've decided to share a short story about something that occurred in his last few days while he was in quite a bit of pain. At one point his son Nikitas and wife Nomiki were in the room with him and were having a conversion about how hard things had been lately. His son said to his mother "Don't worry mom. After the darkness always comes the light. Things will get better. You'll see." At that point Niko woke up and asked what they were talking about. Nikitas quickly responded and said "Dad, I was just telling mom everything will be okay. After the darkness always comes the light. Isn't that right?" Niko replied "No, not for me." At that point Nikitas and Nomiki felt their heart sink into their chests. Nikitas asked, "What do you mean by that dad?". He replied, "Everyday I am in the light. I'm never in the darkness."

May his memory be eternal.

Due to Covid-19 Restrictions the Funeral Services will be private.