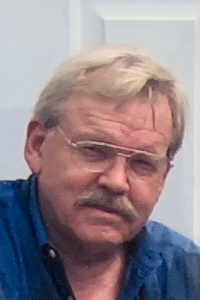 James M. Tompkins died of heart failure December 26, 2020. He was 80 years old.

Known as Jim, he was a father of four, grandfather of 12, and brother to four surviving siblings. A physicist who suffered from schizophrenia for much of his adult life, Jim talked often about his illness, describing it with the detachment of a clinician and the comedic timing of a storyteller.

While caught in the grips of a paranoid episode he would often drive up and down Route 128 reading the license plate numbers of passing cars to decipher what he believed to be messages being sent to him. Once, he spotted a plate with the last three letters "o-i-l" so he took the next exit to find a gas station to get his oil checked. Sure enough, his engine was two quarts low.

"Just because you're paranoid, doesn't mean you're wrong," he would laugh, employing a rephrase of the popular aphorism as his punchline.

Born in 1940 the third of seven children in an Irish-Catholic family, Jim grew up in West Roxbury. He was quiet. He played hockey. He liked to tinker with cars. Aside from an unfortunate grammar school incident when he misspelled "ship" as "shit" during a spelling bee, he was an excellent student.

Jim attended Boston College High School and Boston College, graduating in 1962. In 1963, he enrolled in post-graduate study at Tufts University's School of Engineering and married Patricia Ryan, also of West Roxbury. In 1974, he published his doctoral dissertation, "Cascade Resonance Production in YKK Final States at 2.87 Ge Vic."

In the 1980s, he was hired by MIT's Lincoln Labs to work on the Strategic Defense Initiative, which was better known by its nickname "Star Wars." SDI was a controversial missile defense system intended to protect the United States from attack by nuclear weapons, including ballistic missiles launched via air and sea. Jim's work focused on the use of radar to identify submarines.

During these years, Jim's illness progressed and his behavior became more unpredictable. After a lengthy estrangement from his children, Jim reconnected with them in 2002 when his condition stabilized with new pharmacological treatment options. He tracked his grandchildren's birthdays in a notebook. His signature gift for each child—always hand delivered on their birthday, not a day early or a day late—was a handful of books picked out with the assistance of staff from the Harvard Coop, and a bag of chocolates. He explained that he loved to give the books but figured his grandchildren would appreciate the candy even more.

In his final years, much of Jim's joy came from spending time with his grandchildren. He attended nearly all of their sporting events and music recitals, played games with them, and liked nothing more than engaging them in conversation. He often said to his own children that he felt like he'd been granted a second chance to make up for his own lack of parenting. He also learned how to use an iPhone, which he at first thought could be used to call his grandchildren. When informed that they would never pick up a call—not even from him—he learned how to text.

This past November, Jim voted by absentee ballot for Joe Biden, explaining, "I might be crazy, but that guy in the White House is worse than I am." On Thanksgiving, he drove to his son Patrick's house for a small gathering held outdoors and enjoyed dinner with five of his grandchildren. He spent Christmas with his son Jimmy's family.

Jim is survived by his children, Susan Ryan-Vollmar and her wife Linda Croteau of Arlington; Deborah Tompkins Smith and her husband Greg Foy of Hingham; Jim Tompkins and his wife Paula Garcia of Scituate; Patrick Tompkins and his wife Marianne of Reading; his grandchildren, Helen and Beatrice Croteau; Amelia, Quinn, and Theodore Smith and Eleanor Ryan; Ruben, Cruz and Julius Tompkins; Daniel, Allison and Peter Tompkins; and his siblings, Patricia Soehnlen of OH, William Tompkins of VA, Edward Tompkins of WA, and Theodore Tompkins of West Roxbury. He was predeceased by his parents, Patrick and Irene (Kuhl) Tompkins and his siblings, R. Joseph Tompkins and Mary (Tompkins) Black.

Funeral Service and visiting hours at the William J. Gormley Funeral Home, 2055 Centre St., WEST ROXBURY, Thursday, December 31st at 11am. Please follow all COVID-19 guidelines, including use of facial coverings and social distancing. Interment private. For directions and guestbook, www.gormleyfuneral.com, William J. Gormley Funeral Service 617-323-8600. In lieu of flowers, donations in Jim's memory may be made to the Massachusetts chapter of the National Alliance on Mental Illness, nami.org, or NAMI Massachusetts, The Schrafft's Center, 529 Main St., Suite 1M17, Boston, MA 02129.