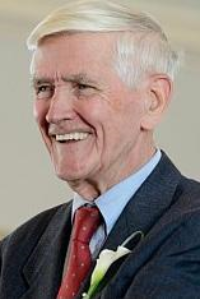 Thomas F. Shea, formerly of Hyde Park, Massachusetts and originally from South Boston, Massachusetts, died peacefully in the company of his family on December 10, 2020, at his family's home in Cotuit. Born on August 15, 1932 in South Boston, Tom was predeceased by his wife of 61 years, Irene (Canavan), his parents, James and Mary (Turner) Shea of South Boston, and six siblings: James, John, Walter, Robert, Donald and Doris (Shea) Noonan.
Tom is survived by his three children and their spouses, Thomas and Lyn Shea of Medway, Massachusetts, Daniel and Molly Shea of Walpole, Massachusetts, and Kelly and Chuck McKenzie of Cotuit, Massachusetts, his 8 grandchildren—Brendan, Courtney, Rachel, Madison, Michaela, Kelsey, Kendall and Rebecca, his sister Carol (Shea) Devlin and her husband John, and many nieces and nephews.
A devoted husband, loving father and proud grandfather ("Pa"), Tom was beloved by his family and friends. He was a quiet, patient man, who always had a smile on his face, a twinkle in his eye and a story to share.
Tom served in the Army from 1952 to 1955, stationed in both the US and Okinawa. He split his career successfully as an insurance executive with Hardware Mutual/Sentry Insurance and then as an election official for the City of Boston. Tom was a devoted family person who always put the needs of his family before his own. He sponsored the annual summer "Sheacation" for family members to gather at a lakeside cottage in New Hampshire, and it was the highlight of his and his family's year. He was a long-time baseball coach with the Hyde Park Junior Athletic Association nurturing countless young athletes. Tom and Irene enjoyed traveling, visiting many scenic locales around the globe but always looked forward to returning home to Boston where they logged hundreds of miles walking around the City, especially their beloved Castle Island.
A Mass of Christian Burial will be held on Tuesday, December 15, 2020 at 11am at Holy Name Parish, 1689 Centre St., West Roxbury, followed by interment at St. Joseph Cemetery. Due to COVID restrictions, masks need to be worn and social distance must be maintained.
The family wishes to thank those who extended emotional support to Tom and his family during his final days; the family's appreciation for your presence and support cannot be expressed in words. Tom/Dad/Pa will be dearly missed.