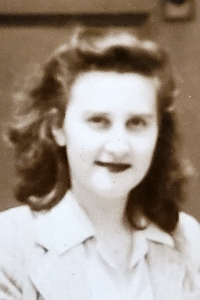 Ida Elizabeth Lajoie, age 94 of Westport, Massachusetts, was called home to our Lord on October 10th, 2020 after a brief illness. She passed peacefully at her home surrounded by her loving family.


Born April 8, 1926 in Middletown, Rhode Island, Ida was the daughter of the late Joana Mathias and the late Frank Flores, both of whom were born in Santa Barbara, Azores.


Ida assumed responsibility at a young age, learning the value of hardwork and diligence, toiling on her small family farm where she grew up during the Depression. She spent her adolescent summers as a governess to the Truesdale Family and in World War II she worked in a torpedo factory in Newport, RI.


After graduating from Josephine F. Wilbur High School in Little Compton, RI in 1945, Ida started working at Elbe File & Binder Company in Fall River, MA, where she was employed for 30 years. She went on to work for several years at Danal Jewelry Company in Providence, RI, and retired from Louis Hand/Aberdeen Manufacturing in Fall River, MA after ten years. She was a proud member of the International Ladies' Garment Workers' Union.


She moved from Little Compton, RI to Westport, MA where she resided for the past 58 years.


Ida was married to the late Chief Little Horse, Isadore Lajoie, and the two shared their love for Native American culture and spirituality. Both were members of the Plainville Native American Council. Ida participated in Pow Wows with her husband throughout New England for over twenty years


Ida was given the honorary name of "Autumn Wind" by the Plainville Native American Council. She would always remind her family of the Native American adage that "the rolling stream of life goes on."


Ida was a kind, compassionate mother and grandmother. She adored her children and grandchildren, providing her family with grace, dignity, and love.


Ida enjoyed dancing, camping, nature, traveling, long conversations, and politics.


She is survived by her children John M Grota of Westport and Deborah A Buchanan of Fall River, sister Emily Clarke of Sandwich, MA, grandchildren Ian S Buchanan and Nathan T Buchanan of Fall River, and several nieces and nephews. She was also the sister of the late Frank Chaves of Tiverton, RI.


Visitation will be Thursday, October 15, 2020 from 10-11 A.M. at the Potter Funeral Home followed by a brief prayer service at 11 A.M.

Burial will be in Beech Grove Cemetery, Westport.

In lieu of flowers, please consider a donation to the Southcoast Visiting Nurse Association.