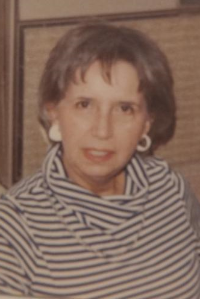 Ann C Phillips passed away on August 4, 2020 in Attleboro Massachusetts and was buried at Walnut Hills Cemetery in Brookline on Aug 6, 2020. She was born on February 21, 1921 in Mounds, Illinois, the daughter of Eugene and Alice Coombes. Her brother Darrell predeceased her in 1983.
On May 7, 1949 Ann and Charles Edward Phillips were married at St. Paul's Cathedral in Springfield Illinois. Her husband Ted preceded her in death in 1996 in Brookline Massachusetts.
She leaves her daughter Margaret Elisabeth Phillips and husband Jeffry Chaise of Poughkeepsie New York.
She leaves her son Robert E (Ted) Phillips of Attleboro MA; her daughter-in-law Mary Fitzpatrick Phillips of Attleboro; her granddaughter Kathryn Elisabeth Fyrberg and husband Jason Fyrberg and their daughters Chloe and Lucy.
Ann graduated from Villa Ridge High School in southern Illinois and from business college in Evansville, Indiana.
In Springfield Illinois, from 1942 until marriage she worked for the Illinois State Department including the Adjutant General of the Illinois National Guard which was mobilized during World War II.
She is remembered by faculty and students at Boston University where she was Assistant to the Dean of the College of Liberal Arts from the late 1970's until her retirement.
She is remembered by faculty and students at Emerson College from 1957 through the present where her husband was the Chairman of the Mass Communications Department until 1983. She enjoyed traveling with Ted and students to Europe helping him to lead educational tours of media centers across Europe.
After retirement she lived in Centerville MA on Cape Cod for seventeen years. In the most recent two years she lived and was cared for at LifeCare of Attleboro. She died after a brief illness and her personality shone through to the very end.