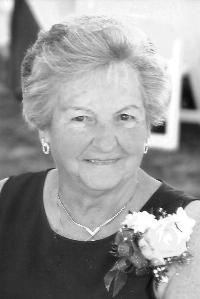 FERZOCO, Eleanor D. (Renzi), 94, of Roslindale and East Falmouth, died peacefully at home May 12, 2020, in the company of her loving family. Born April 14, 1926, she was the daughter of Maria Giovanna (Toti) and Luciano Renzi. Eleanor was the beloved wife of the late Anthony G. Ferzoco, Sr. and the devoted mother of seventeen children: Dennis (Judi), Barbara (Joe) Menendez, Paul (Nancy), Lorraine (Joe) DeCristofaro, the late Dolores (John) Bourke, Edward (Linda), James (Anne), MaryAnn, Ellie Murphy, David (Suzanne), Anthony (Joan), Carolyn (Kevin) Sheehan, Gerard (Deborah), Gregory, Gary, Michael, and Nancy (Dan) Trodden. She was predeceased by her five brothers, Vin, Joe, Ralph, Billy, and Gene. She is survived by her sister and lifelong companion of 92 years, Mary Benedetti. Eleanor was cherished by her forty grandchildren, thirty great-grandchildren, daughters and sons in-law, brothers and sisters in-law, nieces, nephews, cousins, and countless friends.
Although Eleanor grew up during the Great Depression, she recalled a "wonderful childhood" throughout her life. During those formative years, she learned gratitude, generosity, sacrifice, kindness, and love from her family. An orange or a walnut was a cherished Christmas present; rag dolls and embroidery were her entertainment. She shared a single ice cream cone with her sister. Eleanor's older brothers doted upon her — they paraded her through Readville in a little red wagon, they played tennis with her, and they taught her how to dance in the family's tiny kitchen on River Street.
As a teenager, Eleanor often stopped by the Ferzoco homestead on Chesterfield Street at her mother's request to buy a dozen eggs. Her older brothers were friends with Tony Ferzoco; they had played together since their childhood. After each of Eleanor's visits, Tony's mother would turn to him and say, "That's the girl for you. Wait for Eleanor." The rest was history. As they say, mothers know best.
Eleanor and Tony's first dates were strolls through the neighborhood. Later they shared a cup of tea or coffee with each other's families. In 1943, Eleanor graduated from Hyde Park High School early and began working as a typist for the Reconstruction Finance Corporation. While she worked in Post Office Square, Tony repaired warships in the Navy Yard. His coursework in electrical and mechanical engineering at MIT's Lowell Institute had earned him a noncombatant assignment during the Second World War. Their courtship evolved in the city — a dinner date at the Parker House, evenings at dance halls, the movies, and the theatre. Eleanor never wore makeup or jewelry. Her style was always understated, yet elegant. Her demeanor —her sweet personality— enamored all those she encountered.
Eleanor and Tony celebrated their engagement in August 1943 with a trip to Lou Walter's newly opened Latin Quarter Club in Manhattan, where they danced all night with Eleanor's brother and sister-in-law. On April 8, 1945, they were married at St. Anne's Church in Readville. Eleanor's mother and aunts and cousins baked bushels of Italian cookies and made baskets of sandwiches. Her father uncorked bottles of homemade wine. A string quartet and an accordion player provided the entertainment. Guests talked about that evening for decades to come.
Eleanor and Tony welcomed their first son in February 1946; in January 1947 a daughter arrived; then another son in December 1947, and another daughter in May 1949. Eleanor had always wanted two boys and two girls, a brown house, a white picket fence, and a dog. Fate intervened.
In August 1949, Eleanor and Tony purchased a two family home at the crest of Metropolitan Avenue in Roslindale. The Ferzoco family would call that residence home for the next seventy years. At first, the growing family only occupied the second floor, where four rooms provided a home for eight children. It was not until the birth of their ninth child in 1955 that Eleanor and Tony annexed the first floor. They remodeled the kitchen that same year; it remains the same today.
The Boston Globe announced Eleanor's record setting tenth child in ten years in December 1956. The family continued to grow until 1967, when Eleanor gave birth to her seventeenth child at the age of forty-one. There was only one set of twins. The same physician — Dr. Chefitz — delivered all seventeen children. By the time the youngest child departed for college, Eleanor had spent a full forty years raising her children. While Tony held degrees in Education and Engineering and worked three jobs, he dubbed Eleanor his Domestic Engineer.
Raising seventeen children was a monumental task. It required tremendous sacrifice, devotion, and love. Even more remarkable than the biological feat of delivering and raising seventeen children was the selfless temperament with which Eleanor approached motherhood. "I was born to be a mother. I loved it when all my children were home," she often said. She had the remarkable ability to make everyone feel like they were her favorite. She loved with her whole being. Tony was the provider, the voice of authority, the disciplinarian; Eleanor was the peacemaker, the embrace of tenderness, the foundation upon whom the entire family depended. They were a tremendous team and knew exactly how to build a home together.
There was no end to the work. Eleanor made the rounds each evening to take lunch orders from her children. Some of the boys took two or three sandwiches to school. Every morning, she arranged the seventeen brown paper bags on the counter in the order that her children would depart that day. Some of them were working adults. Nobody ever left the house without a kiss and an "I love you."
Eleanor loved cooking. She began preparing dinner at 10 am every day. The oven was always going; the stovetop burners heated pots and pans constantly. One meal might require four loaves of bread, ten pounds of pasta, dozens of meatballs, sausages, pork, and a giant garden salad; another meal might require six roasted chickens, ten pounds of roasted potatoes, and a half bushel of string beans. There was always a homemade dessert. Eleanor always kept a stock pot filled with tomato sauce and another filled with chicken soup in the refrigerator so that in ten minutes a quick meal could satisfy an unexpected visitor or relative. Birthdays warranted special dinners — whatever that particular child wanted. Eleanor's only respite came on Thursdays, when her mother arrived early in the morning to help her sew and stitch clothes and make homemade dough and pizzas. Typically, Eleanor had five or six loads of laundry to do each day. While the children did homework and Tony worked toward his Masters degrees, Eleanor even typed his papers from manuscripts. All she did was give.
When a favorite Italian song played on the radio, Eleanor and Tony would jump up from whatever they were doing and dance in the kitchen. They found their moments of joy — "life is work, but happiness is a choice." Their home was always bustling, always busy, and full of laughter. "We had everything that we needed." Eleanor often entertained her extended family during the holidays at her home. "What are a few more mouths to feed when you already have seventeen."
Even with a large custom built kitchen table, the family ate in shifts. The boys ate first. The girls helped Eleanor with the cooking and cleaning. Then the girls ate together, while Tony marched the boys to the backyard to work in his enormous vegetable garden. They carried bushels of homegrown vegetables and additional produce from Haymarket up to the kitchen — bundles of Swiss Chard and escarole, five gallon pails filled to the brim with string beans, and bushels —thousands of pounds!— of tomatoes to preserve. Each year Eleanor prepared 400 jars of tomato sauce alone.
In 1969, Eleanor and Tony purchased several wooded lots in East Falmouth. They built a large summer home with six bedrooms (with up to four beds in a room). For more than fifty years, "A. Ferzoco Haven" was the family's summer escape from the city. On the Cape, Tony planted a second garden, and there the boys took up quahogging. Eleanor's mother summered with them. The Ferzocos made lifelong friends on the beach. Each night, the family consumed gallons of ice-cream. There were countless games of Uno. The family's favorite breakfast was zucchini and eggs.
That same year, the grandchildren began arriving. Eleanor adored her forty grandchildren. As the years went by, the great-grandchildren began arriving at an even more rapid pace — twenty great-grandchildren were born in just the last ten years. Eleanor held each of them and she especially loved squeezing their legs and kissing them under the chin. Even the fussiest infant would immediately settle down in her arms.
Eleanor and Tony celebrated their 30th wedding anniversary with a trip to Italy to visit their son James who was teaching in Rome at the time. They traveled to their parents' rural mountain villages, where they were welcomed by relatives they had only known through letters. Eleanor jumped out of the still-moving car with tears of joy when she saw her aunt standing in front of her mother's childhood home. Her recollections of that trip inspired her children and grandchildren to study Italian and visit Italy.
Eleanor had a superb memory. She never missed a birthday and always sent a card. To fall asleep, she would count her seventeen children and their families.
After losing Tony in 2003, Eleanor cherished the presence of her grandchildren even more. She taught them to cook, and was thrilled to watch them take up a trade or go to college. She loved the cooking channel, and watched Wheel of Fortune every night for years. Her greatest joy came from seeing how close her grandchildren were. They organized breakfasts and dinners and Friday night cooking classes, where Eleanor was the guest of honor.
In 2009, Eleanor became a dialysis patient at the Brigham and Women's Faulkner Hospital Dialysis Center. She was a longtime patient at MGH. The Ferzoco family will forever be grateful to her doctors and nurses for their superb care. Despite the exhaustion that went along with treatments three days a week, Eleanor savored her four "good days," and maintained her resolve. Eleanor always had a positive attitude. She was never without a smile. She expressed gratitude daily. "How lucky am I?" was one of her favorite phrases.
Eleanor never lost the will to fight. After almost eleven years of treatments, and a life so fully lived, her body simply couldn't give any more. Her determination, her devotion to her family, and her love of life, knew no limits. She was our hero. She will never stop inspiring us all.
Eleanor was laid to rest at Fairview Cemetery in a private service on Saturday, May 16, 2020. The family will hold a memorial celebration of her life when possible. In lieu of flowers, donations in memory of Eleanor can be made to the Massachusetts General Hospital Renal Unit and sent to the MGH Development Office at 125 Nashua Street, Suite 540, Boston, MA 02114. Written by Eleanor's loving grandson, Alessandro Ferzoco.