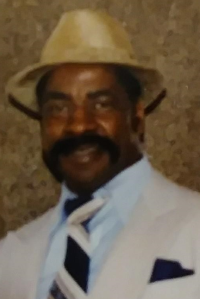 Robert "Bob" Evans, 89 of Boston, went home to be with the Lord on April 26, 2020. After suffering from a stroke in 2006, he resided at Edgar P. Benjamin Healthcare Center. He is preceded in death by his Parents, the late Professor James Paris and Mary Lou Calhoun Evans and eleven siblings, Ora Mae Williams, Idora Pughsley, Gertrude Gough, Willie Ruth Jackson, Melvin Evans, Roman P. Evans, Alberta Maxwell, Lorraine Evans-Jackson, Anne M. Jones, Bernice Mount, and John Evans.

He had worked for Nepco Meat Packing Co. but, was laid off after the company had abruptly closed. In his spare time Bob sold fresh meat, that's where he got the name "Meat Man". Years later, he retired from working in Bradlees Warehouse.

He loved cooking, everyone loved coming to his cookout's, he made the best ribs in town, all were welcomed, and he enjoyed spending time with family. Bob had a heart of gold and a kind way with people.

He is survived by his Son, Michael and his wife Robin Texeria, Granddaughter, Tashanna Williams, Grandsons, Tevin and Tyler Texeria and great Grandson, Travelle Williams and a host of nieces, nephews and other relatives and friends.