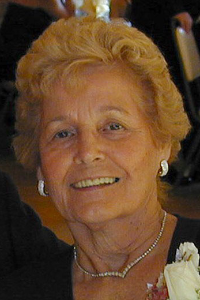 Sullivan, Barbara P. (Sullivan), 92, of West Roxbury, April 18, 2020. Beloved wife of the late Paul C. Sullivan, with whom she shared 57 years of marriage. Daughter of Verna (Bagley) Sullivan, and her husband, Francis Sullivan; Dearly beloved mother of Paula and her husband, John Kessinger, Winter Springs, Fl; Steve and his wife, Lucy (Lindner) of Buffalo, NY, Ted and his wife, Mary, (Wright) of Billerica; Frank and his wife Lisa (Nasson), of West Roxbury; Dan and his wife Tina (Brooks) of Shrewsbury; daughter-in-law, Linda (Walsh) Sullivan, Cheshire, CT, son-in-law Jack Moran of Braintree. Barbara is pre-deceased by her husband Paul Sullivan; her brother, Linwood Sullivan; her sister Jane (Sullivan) Hess; her son Timothy, of Cheshire, CT; her daughter Mary (Moran), her grandchildren; Michael Moran, Stephanie and Andrew Sullivan, and Meghan Sullivan.

Known to all as a selfless, compassionate, generous, humorous and humble lady of grace, who was "Born to Shop," Barbara swaddled countless infants in her arms, and pampered their mothers, during her 38-year nursing career at the former St. Margaret's Hospital, Dorchester. Legendary were Barbara's spaghetti sauce with meatballs and sausage; boiled dinners (grey and red); potato salad, French fries and fried chicken, brownies, cakes and pies.

Barbara was unwavering in her love for, and devotion to, her husband, their seven children, 23 grandchildren, 15 greatgrandchildren, and a great-great grandchild. Each, in addition to being faithfully cheered on at all of their countless sporting events, had their personal infant sweater, hat and booties crocheted for them by their beloved "GG." Hundreds of other nieces and nephews and their children and the children of those Barbara knew but a short while were also gifted the cherished "sweater sets" which Barbara continued to lovingly make into her mid-80s.

Boston was cold and snowy the morning Barbara Pauline Sullivan passed from this life to eternal joy and peace with her immediate and extended family and friends in heaven. However, in the minds of all those who love and miss her, there will always be the memory of Barbara's unconditional love, warm smile and bright eyes.

A private graveside service will be held. In lieu of flowers, donations in Barbara's memory may be made to the Meghan M. Sullivan Scholarship Fund, c/o Billerica Scholarship Foundation, Billerica Treasurer's Office, 365 Boston Road, Billerica, MA 01821.