Hazel Anne McGhee
3/24/2020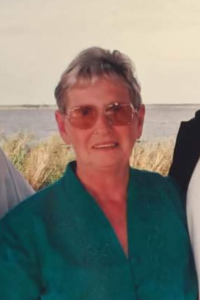 Hazel Ann McGhee departed this life peacefully, surrounded by her loving family, in the evening hours of Tuesday, March 24, 2020. She was 83 years old.
Born in Manchester, Georgia, she was the last surviving child of her parents (preceding her in death) Curtis Matthews and Willie Mae Matthews. Ever devoted to her faith, her family is comforted that she has met Jesus in Heaven along with her son, Louie Faircloth, her parents, her sister Joyce, her brother Donald and her brother Billy, who went missing in action during the Korean War. A mystery that she has now solved. After meeting her husband, Charles McGhee, a now retired Command Master Chief in the Navy, they traveled the world together before retiring in Grovetown, Georgia to be close to their family.
Ann was a beautiful singer and dancer and a true family matriarch. She was often surrounded by her large family and as her days neared an end, she enjoyed many precious visits by extended family. A great lover of animals, she was never without a spoiled pup. With her ever generous spirit, she was a long-time supporter of the St. Jude Children's Research Hospital as well as a contributor to the advanced education of her grandchildren. Her legacy will carry on through their success and the success of those whose lives she impacted.
She is survived by her loving husband of 46 years, Charles McGhee; Her sons Anthony Faircloth (Nicci Faircloth), Kim Faircloth (KK Faircloth), her grandsons Charles Faircloth, Matthew Faircloth and Jesse Faircloth, her granddaughters, Ashley Faircloth, Megan Faircloth, Gabriella Faircloth, Savannah Faircloth and Hannah Faircloth; her great-granddaughter Presley Ann Faircloth and her beloved dog LuLu.
Ann's funeral will be held at Belleview Cemetery on Saturday, March 28, 2020. In lieu of flowers, please donate to the St. Jude Children's Research Hospital at stjude.org. Platt's Funeral Home has been entrusted with her arrangements.
Please sign the guestbook and send condolences at www.plattsfuneralhome.com.