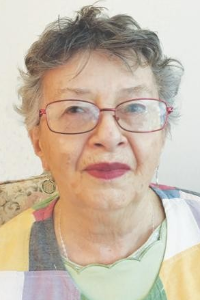 Mary Ann Bevilacqua, 88, died on February 10 in Providence. Born January 8, 1932 in Windber, PA to John and Anna Hlatky, she grew up a coal miner's daughter of great determination. She graduated from Windber High School and the Windber Hospital School of Nursing, then served two years at the U.S. Army Hospital, Ft. Bragg, NC, where she was commissioned a first lieutenant, and where, on New Year's Eve, 1956, she was set up on a blind date with Joseph Bevilacqua, an Army social worker. "I knew right away that I'd marry him," she later said. In 1957 they were both transferred to Frankfurt, Germany, where they were wed in 1958.

The following year, Mary Ann left the Army for a new adventure, motherhood. From 1959 to 1963, Joe's Army career took them from Frankfurt to Buffalo, NY; Washington, D.C.; and San Antonio, TX; a baby was born in each city. Between 1964 and 1971 the family moved five more times, and Mary Ann took on the challenges of peripatetic motherhood with love, curiosity, patience, unflappability, and a great deal of humor. Interest in her own children's lives evolved into a desire to understand early childhood development more broadly, and in 1973 she enrolled part-time at Virginia Commonwealth University (VCU) in Richmond, proud that her veteran's status provided tuition benefits. In 1975, Joe's career in state government took the family to Rhode Island, where she eventually went to work as a visiting nurse, serving mothers and their developmentally challenged babies and toddlers in their homes, and resumed her studies at the University of Rhode Island. When Joe's next position returned them to Richmond, now as empty nesters, she went back to VCU to finish her degree, which was awarded in 1986 - by which time she and Joe had moved to South Carolina, where during the following nine years she helped to found and foster BabyNet, a statewide, interagency early intervention system for infants and toddlers with developmental delays; it has since become a national model. She also enrolled in graduate school, and in 1990, at the age of 58, she was awarded a Master's Degree in Public Health from the University of South Carolina.

A brief move to Alexandria, VA was followed in 1997 by retirement in Little Compton, RI, where Mary Ann and Joe built a house that for 20 years served as an idyllic setting for unforgettable gatherings of beloved family and friends. After Joe's death in 2017, Mary Ann made her home at Laurelmead in Providence, among old friends and new.

A self-described introvert, Mary Ann nonetheless cultivated and nurtured devoted relationships across miles, time zones, cultures, generations, and decades. Her down-to-earth unpretentiousness invited everyone to relax around her; her warm, genuine interest in the lives of others made her the confidant of many; her inspired cooking and gracious hospitality were legendary; and her keen intelligence and wry sense of humor kept everyone on their toes. Her friends came from all walks, and often became friends with one another, she was the quiet catalyst for countless connections. Her deep capacity for compassion, and her belief in the value and potential of each person she met, no matter their circumstances, defined her long, well-lived, deeply engaged and loving life.


In addition to the love of her life, Joe, Mary Ann is predeceased by her brother Michael, niece Angela Hlatky, and brother-in-law Mike Bevilacqua. She is survived by daughter Christina; sons Michael, Dominic (Cristina Martín), and Anthony (Sue Mazzucco); grandchildren Justine, Mathew (Bianca), Carmine (Amy Peña), Grace, and Nino, (and their mother, Therese Jungels), and Beatrice; great-grandchildren Gabriella, Ayden, and Oliver; brother John Hlatky (Margaret Leedom); nieces Stephanie Seal and Laura Bevilacqua; nephews Patrick Hlatky (Pam), James Bevilacqua (Tina), and Brian Bevilacqua; brothers-in-law John Bevilacqua and Mark Bevilacqua; sister-in-law Yvonne Bevilacqua; and family members Mary Ann Ober (Neil), Rose Senkiw (Clay), Janice Dennison (Rich), and Barbara Bevilacqua. Special thanks to Dr. Jennifer Maude and staff, the staff at Laurelmead, attorney RJ Connelly and staff, the staff at Hope Health Hulitar Hospice Center, and Alice Zucker for their very thoughtful support.

Funeral services are private; A celebration of Mary Ann's life will be held this summer. Gifts in her memory may be made to Everett Company, Stage and School, 9 Duncan Ave., Providence, RI 02906, or Click Here ; or the Nurse Family Partnership at Children's Friend (please designate "Nurse Family Partnership" on check or online donation form), 153 Summer St., Providence, RI 02903, or Click Here .