Adrienne Jordan
2/18/2020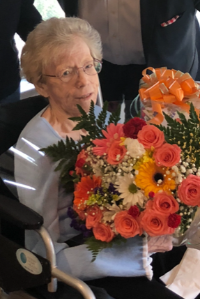 Adrienne V. Jordan, 85 passed away peacefully on Tuesday, February 18th 2020.
Adrienne was born on March 28,1934 to William B. and Marguerite (Ryan) Hodge in Brooklyn. She grew up in Ozone Park, Queens in an Irish Catholic family with 5 siblings and they were members of Gate of Heaven RC Church for many years. She married Robert P. Jordan (Bob) on October 21, 1961 at Our Lady of the Skies Chapel at JFK airport and together they started out in a small apartment on Jewel Ave. She lived in Brookline Mass then Hamilton Mass before relocation to Thornwood NY in 1980. She spent many years working for PepsiCo in Valhalla NY before retiring to Hyde Park in Dutchess County NY. She enjoyed reading, ceramics, watching cooking shows, vacationing on fresh water lakes and ice cream. Above all, she enjoyed spending easy time with her family and friends.



She is survived by her children Bob (Anne) of Staatsburg NY, Chris (Karen) of North Salem NY and Cindy Palmadessa (Doug) of Waldwick NJ. Also surviving are her sisters Joyce and Nancy (Sal) of Central Islip NY. She adored all her grandchildren as they were a tremendous source of her happiness. Bobby, Brian, Jake (Regis), Sarah, Douglas, Meaghan, Lexie and Liam will all deeply miss their Grandma. She was predeceased by her husband Bob in 1988.



A Catholic funeral Mass will be held at St Theresa's RC Church on Pleasantville Rd in Briarcliff Manor NY on Saturday, February 22, 2020 at 11am. In lieu of flowers, the family asks that donations be made to: Michael J Fox Foundation for Parkinson's Research. A celebration lunch to follow, all are welcome!