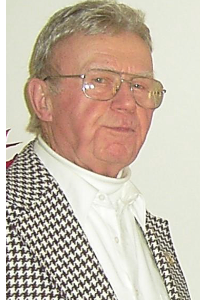 John Patrick Coffey, formerly of West Roxbury, passed away on February 19, 2020. John was born to Timothy and Eileen (Mahoney) Coffey in 1928 in Kenmare, County Kerry, Ireland.
At a young age, John lost his mother and was tasked with caring for his younger sisters. While he had heavy responsibilities on his shoulders and a country in troubled times, John had only fond memories of his childhood. He loved to share his stories of poaching salmon in the Kerry Blackwater River, his footballer days with the Blackwater Parish football team and life in the beautiful countryside of Kenmare.
John was proud to work summers as a porter in London hotels and it was there that he met the love of his life, Josephine Punch from Cork City Ireland. Josephine often told the story of their long distance courtship and John's four-hour bike rides from Kenmare to visit her. They were married in 1961, lived in London and eventually settled in Boston. After the loss of his wife of 30 years, John retired from the Mass. Metropolitan District Commission. He continued to work many different jobs in West Roxbury. He was never without a job to do and considered it an honor to work hard. He made many friends in his community and was well known for his friendly spirit and lively Irish charm.
John treasured his three grandchildren who affectionately called him "Bobo." He was so proud of their achievements and they loved their Bobo for his wonderful sense of humor, his generous heart and his unconditional love. They will miss him dearly.
John was predeceased by his wife, Josephine and his four sisters Mary Crowley, Eileen O'Sullivan, Margaret Morris, and Sheila Kalish.
He is survived by his sons Tony of San Carlos CA and Mark and his wife Theresa of Ipswich MA, his grandchildren Emily Phillips and Michael Dillon, both of New York City and the apple of his eye, his Princess, Katherine Josephine Coffey of Ipswich. He is also survived by many nieces and nephews in Boston and Cork, Ireland.
Relatives and friends are kindly invited to visit with the family in the William J. Gormley Funeral Home, 2055 Centre St. West Roxbury on Saturday, February 22nd at 9:00 a.m. prior to a Mass of Christian Burial at 10 o'clock in St. Theresa of Avila Church, West Roxbury. Interment St. Joseph Cemetery.
The family would like to thank the staff at Care One at Essex Park in Beverly MA for their kindness and compassion shown to John during the final years of his life.