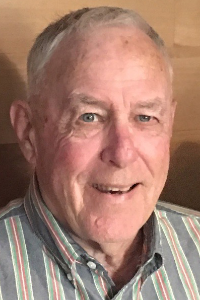 Donald Metz, age 85, of Ventura, California passed away peacefully on Valentine's Day, 2020. He was born in New York City and graduated from Scarsdale High School. Following high school, he studied electronics at Purdue University and then joined the Marine Corps. Don married Shirley Crane in 1963 in Minot, North Dakota. They were married 50 years until Shirley passed in 2014. They lived in Alton, IL, Framingham, MA, New Hope, MN, Hoffman Estates, IL before moving the family to Ventura, CA in 1979. Don was a role model and mentor to two daughters (Michelle and Jennifer) and four amazing grandkids (Rockwell, Maxwell, Rebecca and Ryan Ellis).
Don worked in the computer industry from the 60s through the 90s. He was an avid Minnesota Vikings fan attending games when the team still played outside at Met Stadium. He and Shirley enjoyed traveling to see lighthouses in Maine, cruising to Alaska, and visiting Cambria to walk and collect moon stones on the beach. Upon retirement, Don stayed active chauffeuring his grandkids to school, sports, and music practices. He volunteered with Cub Scouts and Boy Scouts teaching the Scouts four important words - sir, ma'am, please, and thank you. He was passionate about emergency preparedness and made presentations to groups about how to be prepared.
Don was a proud American and epitomized the "Once a Marine, Always a Marine" motto. To honor Don, spend time to prepare your family for an emergency with a flashlight, gloves, pocketknife, and whistle.
A gathering will be held from 6 to 9 p.m. on Thursday, February 20 and funeral services will be held on Friday, February 21 at 11 a.m. at Joseph P. Reardon Funeral Home & Cremation Service, 757 E. Main Street, Ventura. Interment will follow at Ivy Lawn Cemetery.