Ronald James Panter
2/7/2020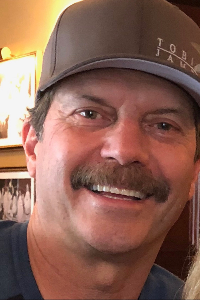 Ronald James Panter (Ron) age 66 passed away February 7, 2020. He was born January 10, 1954 to parents Richard and Joyce Panter in Turlock, CA.
Ron graduated from Hueneme High School in 1972 and attended Ventura College for a short time to learn how to weld. This earned him a job at Kettenberg Marine at Channel Islands Harbor. He also lived for some time in Washington and Sacramento.
Ron enjoyed water skiing and an occasional round of golf. While living in Sacramento he participated in boat racing in his Enduro Boat. He was the nicest person to everyone he met. He dearly loved his family and friends very much.
When Ron moved back to Oxnard he attended a luncheon for Hueneme High class of '72 and of '73. It was at this reunion that he was reacquainted with Vickie. They first met in the fourth grade when his family moved down the street from her. From the day they reconnected they started dating, fell in love, and became engaged.
Ron is survived by his fiancé Vickie Whitford, brother Guy Panter, his step-mom Shirley Panter, his sister-in-law Jenny Herrera, his nephews Junior Herrera and Greg Junior Panter and his niece Joyce Panter. As well as many aunts, uncles and cousins.
He is preceded in death by his mom Joyce Foote, his brother Greg Panter, and his father Richard Panter.
The gravesite services will be held February 18, 2020 at 1:30P.M. in Merced, CA. There will be a celebration of life memorial service at a later date in Ventura.
Arrangements are under the direction of the JOSEPH P. REARDON FUNERAL HOME & CREMATION SERVICE, 757 East Main Street, Ventura.