Peter Thomas Vandehei
2/11/2020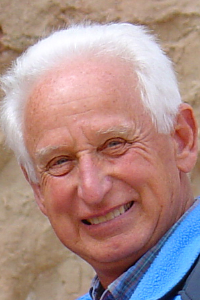 Peter Thomas Vandehei, 90, passed away with his family by his side on February 11, 2020. Peter was born in Salt Lake City, Utah on December 25, 1929, the youngest child of Evan Eugene Vandehei (1889-1977) and Constance Sutcliffe Vandehei (1890-1969).
Peter grew up in Salt Lake City with four older sisters as part of a very active outdoor family. In the summers he hiked, camped and worked for the forest service blazing trails and fighting forest fires and in the winters, he loved to ski and snowshoe in the surrounding mountains. Peter enjoyed competing in sports, including track and field, ski jumping and racing. He placed forth in slalom at the Olympic Trials in Sun Valley, Idaho in the winter of 1951, just missing a place on the Olympic team.
Peter graduated from East High School in 1948. He enrolled in college, but his studies were interrupted by the Korean War when he enlisted in the United States Air Force. Returning to college after the war, he graduated from the University of Utah with a bachelor's degree in Physics in 1956. After college Peter came out to California to work at the Naval Air Station Point Mugu Pacific Missile Test Center, which launched his long career in the field of Optics and Thin Films. He developed and coated lenses for various military projects, the Hubble space telescope, National Ignition Facility laser, various Medical equipment and for Panavision cameras.
During his time at Point Mugu he met many of his lifelong friends who introduced him to surfing in Malibu, C-Street, Mondos, Rincon and other prime spots up and down the California coast. Peter started shaping his own surfboards out of Balsam Wood. A friend introduced him to a pretty blond surfer girl named Phyl. After their surfboards blew off the rack of his car on a surf trip to San Onofre, they spent the next few weeks after work fixing them in the garage of his new home on Loma Vista Road, and their relationship subsequently blossomed.
Peter proposed to Phyllis Ann Kopko on Telescope Peak in Death Valley National Park after she beat him to the summit. They married on March 29, 1958 at Santa Clara Church in Oxnard. They surfed California Street together from 1957 through the early 1970s while raising a family of six children. Later, they hung up their surfboards and joined the Cabrillo Racquet Club, where they spent many years playing tennis with friends and family. Each winter they packed the whole family in the van and headed for the slopes, skiing all over the mountain and leaving no trail or jump untouched. Their life was full of adventure. Pete and Phyl worked hard to build a beautiful home that they shared for more than 58 years. As their family grew, they built 7 additions to the house.
Peter worked for a few different companies prior to starting Infrared Filters, Inc. where he designed and coated lenses until he retired in his late seventies, after which he still consulted for many years.
Peter was preceded in death by his wife Phyllis and son Sverre Vandehei (wife Kim), and his four sisters Betty Edmonds, Gayle Morgan, Joy Brietbarth and Jean Davis. He is survived by his children Sven Vandehei, Heidi Lanning (husband Rex), Leif Vandehei (wife Terri), Schatzi Sovich (husband Jan) and Thor Vandehei (wife Eleanor). He is also survived by thirteen grandchildren - Joshua, Elijah, Rusty, Peter, Ezekiel, Ashley, Rocky, Bailey, Leisl, Brigitta, Taylor, Katarina and Beatrix - and twelve great-grandchildren – Asher, Napthtalia, Hezekiah, Hadassah, Valory, Sverre, twins Adina and Baet, Aurora Grace, Remington, Silas and Tanner too, on his way.
Peter was born during the depression, raised during World War II, served in the Korean War, immigrated to California from Utah to surf, ski and work, married and raised a large family, started his own business and basked in the joy of his creations. Peter passed on his love for the outdoors and adventure to all his children. His last remaining wish was to make it to 90 and the decade in which he was born, 2020. You made it dad! We love you more than words on paper can ever express! Family and friends are invited to a Celebration of Life on March 7, 2020 at 2pm. Please contact schatzisovich@sbcglobal.net for the pending location of the celebration.
Arrangements are under the direction of the JOSEPH P. REARDON FUNERAL HOME & CREMATION SERVICE, 757 East Main Street, Ventura.